INDONESIA DIVER SPECIAL
NIGEL MARSH recently visited Indonesia's tiny Gili Islands off Lombok, to find out whether it was diving business as usual after the earthquakes that rocked the region last year
Resting green turtle at Meno Slope and (inset) a wandering octopus climbs onto another one.
I HAVE DIVED MANY SITES loaded with turtles in Asia, but I had never seen so many friendly and laid-back greens at the same site. These turtles were so relaxed with divers that they ignored me as
I snapped photos, and one was so comatose that it was unaware that an octopus was climbing over its shell!
I was really surprised to see this many friendly turtles in the Gili Islands, a place that managed to surprise me time and time again.
Ringed by coral reefs, studded with palm trees and featuring white sandy beaches and clear blue waters, it's easy to see why the Gili Islands are a popular holiday destination.
Located off the north-west coast of Lombok in Indonesia, the three islands – Gili Trawangan, Gili Meno and Gili Air – lure divers, snorkellers, sun-seekers and loads of backpackers.
Indeed so many backpackers descend on the Gilis that they have achieved the reputation of party islands. However, they received an even worse blow to their reputation when hit by a series of terrible earthquakes in July and August 2018.
The earthquakes killed more than 100 people in the Lombok area, left thousands homeless and destroyed countless buildings.
While some of the resorts suffered damage, most were quickly back on their feet and eager to welcome back divers and other tourists.
To prove this, the Indonesian Ministry of Tourism invited me and several other journalists to visit the Gili Islands in November.
To be honest, the islands had never been high on my list of places to visit in Indonesia. The thought of loads of backpackers, dance parties booming all night and crowded beaches just didn't appeal.
I had also heard mixed reports about the diving, some saying that dynamite-fishing had destroyed the corals, while others reported a wonderful mix of sites and impressive marine life.
So I accepted the invitation with some reservations and a few questions that needed answering – had the islands recovered from the earthquakes? Were they overrun with backpackers? And what was the diving really like?
WITH LOMBOK located just east of Bali, most visitors to the Gili Islands arrive by boat. Our group took the other option of a flight from Bali to Mataram (the capital of Lombok), then a drive to the northern end of the island and finally a quick speedboat run over to Gili Trawangan.
Arriving after midnight, I was relieved to hear no thumping dance music. It was actually very quiet as we checked into our accommodation, the lovely Laguna Gili Beach Resort. Exhausted after a long day of travel, I went straight to bed.
Up early the next morning, I first looked around the dive-resort. Set in a pretty garden, it has large air-conditioned Balinese-style rooms, two pools, a restaurant/bar and a well-equipped and well-laid out dive-centre.
The only thing separating the resort from the white sandy beach was a road. At first glance this seemed a poor place to have a road; then I realised that the only traffic consisted of bicycles and horses and carriages (known locally as cidomo). There are no noisy cars, trucks or motorbikes on the Gili Islands, which came as the first pleasant surprise.
Walking up and down the main road I found numerous dive-shops, dive- and beach-resorts, tour companies and other businesses. Most appeared to be open.
I saw no earthquake damage until I ventured onto the back-streets, where a few collapsed buildings were evident.
There were also numerous tourists. The beach and roads weren't crowded, but things appeared to be getting back to normal.
We soon had our gear sorted in the dive-centre and were off to explore the local muck. While researching my guide book Muck Diving I had discovered that there was one popular such site in the Gili Islands called Hann's Reef, but we were heading to the adjacent mainland to explore sites I had never heard about.
The first, Kecinan, featured a grey-sand slope dotted with mooring lines. Zig-zagging up and down it in depths from 9-24m, we were soon among an assortment of shrimp, gobies, razorfish, filefish, shrimpfish, pufferfish, blennies and lionfish.
There seemed to be quite a few Shaun the Sheep nudibranchs on the seaweed, but I was more interested in larger muck critters.
And our guide Leon delivered, with four frogfish, a cuttlefish, a finger dragonet, a thorny seahorse and a cockatoo waspfish.
Our second muck dive was just around the corner at Seahorse Bay. This again featured a grey sandy slope, but with a lot more seaweed, sea-pens and anemones. While we found ribbon eels, nudibranchs, moray eels, lionfish, scorpionfish and commensal shrimps, it was the seahorses that were the main feature. Clinging to the seaweeds we counted half a dozen pretty thorny seahorses.
LATER WE DIVED the resort's house reef. Though accessible from the shore, with a current running we did it as a boat-dive so that we could drift the sloping reef.
House reefs can be hit or miss, and this was a bit of both. Most of the slope was coral rubble, but there were several healthy patches to explore. Concentrating on the small stuff, I soon found mantis shrimps, nudibranchs, octopus, ribbon eels and an ornate ghost pipefish hiding in a featherstar.
The highlight was the rich collection of small reef fish – angel, butterfly, puffer, wrasse, damsels, hawkfish, lionfish and a snowflake moray eel.
We were ready to explore some of the coral reefs, and the first was Deep Turbo, a series of coral ridges off the north end of Gili Trawangan.
Jumping in to find the visibility close to 30m was a wonderful surprise, as it had been not much more than 13m on our first day.
We descended into a gutter full of garden eels, then swam over a ridge decorated with whip corals, gorgonians, soft corals and barrel sponges.
I spotted a large Maori wrasse, and in the distance a small reef shark. Swimming from ridge to ridge we saw colourful healthy corals,
a blue-spotted mask ray, a starry pufferfish, batfish, snapper, squirrelfish and many reef fish.
On one ridge a green turtle rested. It ignored us as we snapped away, and Leon didn't seem impressed either, unlike most dive-guides in Asia, who get excited when they find you a turtle.
It took a long midwater swim to get back to the fringing reef surrounding Gili Trawangan. As we reached it, visibility dropped to 9m and the healthy coral was replaced by rubble.
But that didn't matter, because a dozen green turtles could be seen. No wonder Leon hadn't been interested in a single specimen! These turtles were resting and getting cleaned, and were unmoved by our presence. I remembered reading somewhere that the Gili Islands claimed to be the "turtle capital of the world". I had laughed at the claim, but seeing this many turtles in one spot I could understand the boast.
Our second dive that morning at Turtle Heaven cemented that claim. This sloping reef off the northern end of Gili Meno didn't have the nicest corals or the best visibility, but it did have plenty of turtles.
At first we drifted along a sloping reef covered in mushroom corals and home
to small reef fish. But arriving at a ridge covered in coral rubble and a dozen green turtles, we paused for 30 minutes for some very close turtle time.
The greens were sleeping, rubbing their bellies and occasionally jostling for best position. Some were having their skin picked clean by cleaner wrasse and their shells scraped of algae by surgeonfish.
A few of them returned from getting a breath of air, and would almost push us out of the way to get the prime locations.
The funniest thing I saw was the octopus clambering over a turtle's shell. It was hard to tell if the octopus was looking to see what was happening or attempting to manoeuvre the turtle off its home.
Elsewhere at the site we found a feeding hawksbill turtle that was equally indifferent to divers, plus an ornate ghost pipefish and schools of basslets, fusiliers and feeding mouth mackerel.
Our afternoon dive, also on Gili Meno, was very different. We started at Meno Slope in the shallows, on a rubble slope only 4m deep where a sculpture garden has been created by artist Jason deCaires Taylor. Featuring 48 life-sized human statues arranged in two circles, it is quite surreal swimming around concrete human forms decorated with algae, sponges and other marine growth.
This experience was followed by a drift along the sloping reef, finding hard corals in the shallows and more colourful whip corals, gorgonians, sponge and soft corals in depths to 22m. Two approachable turtles were the highlight of the dive.
NIGHT LIFE, especially in the area in which we stayed, turned out to be quite subdued, with no loud music or dance parties. In fact the loudest noise on the island was the call-to-prayer of the nearby mosque. That party-island image was taking a real hit.
We enjoyed our own night life with a nocturnal dive on Hann's Reef's sandy slope and coral gardens. We started on the sand, and soon found a cone shell out on the hunt, several box crabs, including one that was eating another cone shell, and numerous small prawns.
Going no deeper than 15m we also found elbow and hermit crabs, flatheads, sole and a tiny robust ghost pipefish.
We expected to find a good range of cephalopods, but a very bright full moon might have made them a little shy.
We did see one tiny bobtail squid, and among the coral were sleeping fish, saron shrimps, moray eels, an ornate ghost pipefish. I was also surprised to find a juvenile banded toadfish, a species I had seen before only in Raja Ampat.
Our last day of diving on this brief trip took us to a signature site, Shark Point. Our dive brief mentioned sharks, schooling fish and a scuttled shipwreck, though somehow we missed the wreck.
Instead we did a wonderful drift over coral-heads, ridges and gutters, where I was amazed by the schools of squirrel and soldierfish, snapper and fusiliers.
There were also a small gang of trevally and a large tuna. The only sharks I saw were two whitetip reef sharks, though the guides claimed that blacktip reef sharks and silvertips were often seen.
We also encountered blue-spotted lagoon rays, batfish, a variety of angelfish and a banded snake-eel looking for a meal. And once in the shallows we encountered another large population of green and hawksbill turtles.
OUR FINAL DIVE did take us to a shipwreck, lying off Gili Meno and known as the Bounty Wreck. But as on most of our dives in the Gilis we first did a drift along a sloping reef, home to a healthy population of reef fish and turtles. Several hawksbills were feeding on coral rubble, and one was even snapping down sea-salps floating by in the current.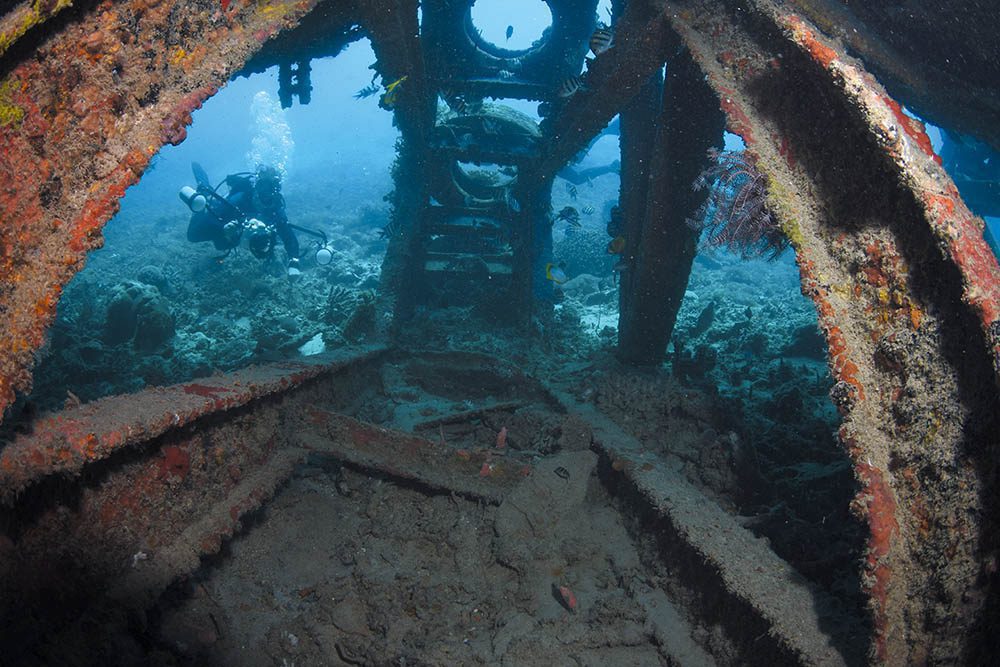 A large coral bommie kept us busy for a while, as it was covered in gorgeous corals and swarming with baitfish. We finally arrived at the Bounty Wreck, a 30m floating platform that now rests upside-down in depths from 8-16m, covered in corals and home to a multitude of fish, with a large school of drummers milling around the bow.
It was a great way to finish three brilliant days of diving the Gili Islands.
That afternoon we took a horse-and-carriage ride to the other side of the island and enjoyed cocktails as we watched the sun set over Bali.
The resorts on this side seemed to have suffered more earthquake damage, with two still closed for renovations.
The Gili Islands really surprised me. They were pretty and peaceful and featured a good variety of dive-sites, impressive marine-life and one of the friendliest turtle populations in Asia.
I was glad I had accepted the invitation and found this little surprise package.
FACTFILE
GETTING THERE> Fly from the UK to Bali, then take a fast boat or combination of car and boat if you fly into Mataram, Lombok. Boats from Bali depart from Padang Bai, Benoa, Serangan and Amed, and the crossing can take 90-120 minutes or more. Garuda and Lion Air have daily 30-minute flights between Bali and Lombok. It's then a 90-minute drive followed by a 10-minute speedboat ride to the Gili Islands.
DIVING & ACCOMMODATION> Laguna Gili Beach Resort, lagunagili-beachresort.com
WHEN TO GO> Year round, but rains in December and January can reduce visibility. Water temperature varies from 26-29°C.
MONEY> Indonesian rupiah.
PRICES> Return flights from UK from around £550. Seven nights' B&B accommodation from £250pp (two sharing, October prices).
VISITOR Information> Indonesia Travel
OTHER FEATURES FROM THE INDONESIA DIVER SPECIAL – May 2019
Holiday News Indonesia