archive – North AmericaVancouver Style
Sun blazing above, a tad nippy below, but off Nanaimo in the Canadian Pacific you stay submerged as long as possible, because you never know what you might see, says JO CAIRD
Photography by STEVE PRETTY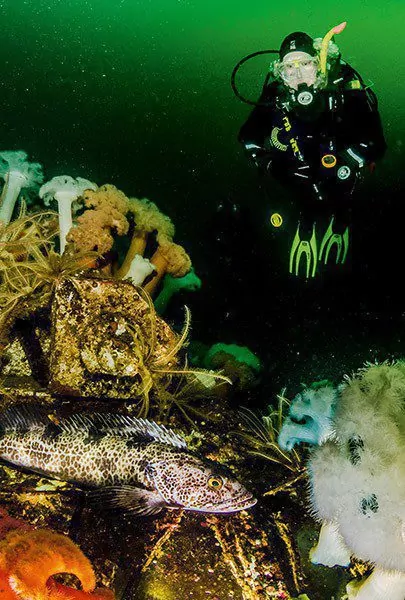 THE WOLF-EEL, A MASH-UP of a scorpionfish and a moray eel, only toothier and uglier, pokes its massive head out of a hole in the kelp-covered reef.
Almost hidden behind him in the burrow is a female, smaller than her mate and considerably more bashful – or perhaps it's just that he's hogging all the space and she can't get a look in.
It's only a few minutes since I plunged from the 30° heat of a Canadian summer day into these chilly green waters off Vancouver island. What looked at first like a rather dull dive-site is coming to life before me, full of strange-looking creatures the likes of which I've never seen before.
First the wolf-eels; then a couple of gorgeous sea lemons, bright yellow and flat as pancakes; then a sea pen, phallic and strange, coughing up a cloud of grit as I move in for a closer look.
Ed Singer, proprietor of Sundown Diving and my skipper on this whistle-stop tour of the dive-sites off the sleepy city of Nanaimo, has been diving at this particular location for more than two decades.
Except rather than coming by boat, Ed tells me, shaking his head at his own youthful folly, he used to do it as a shore-dive. "Was it worth it?" I ask him, gazing out over 300m of choppy water towards Nanaimo's northern suburbs.
"It's better by boat," he says with a smile.
The visibility isn't fantastic here at Clark Rock – there's been an unusually large algae bloom on the west coast of North America this summer – but 10m is more than enough for me to locate the site's resident giant Pacific octopus.
Ed's directions – "turn left at the street sign and keep going until you find a boulder surrounded by smashed-up crab shells" – sound as if they'd be more useful topside than at 1m down, but they turn out to be spot-on – even if the octopus in question won't be persuaded to show me more than a couple of pink tentacles.
Finding my way back to the street sign, and from there to the line where Ed's 8m Grady White, the Calle Sea, is moored, is beyond me, however, thanks to the arrival of a thermocline so dense that I can barely see my hand in front of my face.
I persevere for a while, peering through the gloom at a rainbow of rockfish feeding among the abundant laminaria kelp, but it's no good – I've lost my bearings, and the sooner I admit it the better.
UP AT 15M THE VIS is much improved, and I'm rewarded with the glorious sight of wide fronds of bull kelp undulating in the sun-dappled swell.
After nearly an hour in 13° water I'm getting chilly in my drysuit, but I stretch out this experience for as long as I can stand it, reluctant to tear myself away from the ever-changing patterns of light and colour.
It doesn't take long to warm up once back in the boat – my photographer-buddy has the opposite problem, in fact, getting a touch of sunburn as we wait for the surface interval to tick by in the blazing West Coast sunshine.
Next up, Ed tells us, pulling a pile of sandwich ingredients from a cool-box, is the Rivtow Lion, a rescue vessel used by the British in the north Atlantic during World War Two before being repurposed as a dockyard tug.
As a member of the Nanaimo Dive Association (NDA), Ed was instrumental in its scuttling, which took place in shallow, sheltered waters in Departure Bay in 2005.
It's hard to make out the shape of the wreck in places, so covered is it in plumose anemones. Ghostly white, some as long and as thick as your forearm with a plume as big as your face, they make a dive on this 48m vessel a decidedly eerie experience.
I take a look at the powerful propeller before finning over the deck – more or less level at around 18m deep – and dropping down into the engine-room, which is pitch-black, every surface thick with rust.
There's a resident octopus here too, but I'm no luckier with this one than I was with the last – it's hidden away beneath the hull on the portside, just a few tentacles visible if I lie flat on my belly on the algae-tinged seabed at 27m.
A quick trip up to the bow, then it's time to find the mooring-line again and head to the surface.
A few minutes later, we're back at the jetty in town – making this one of the most convenient and easy wreck dives I've ever done.
The next morning I experience Nanaimo wreck-diving on an altogether different scale. Having retrieved my gear from Ed's lock-up on the jetty, we make our way out under a seaplane flight-path to just off Snake Island, where two massive Canadian warships lie end-to-end about 40m deep.
HMCS Saskatchewan and HMCS Cape Breton, measuring 112m and 125m long respectively, would take countless dives to explore. I've got time for just one, and opt for "the Sask" (as Ed calls it), as it was the first of Nanaimo's artificial wrecks (scuttled in 1997) and so is home to more marine life than its neighbouring vessel.
WITH MARK BRIGHT from Sundown Diving as my guide, I follow the midship line down (there are lines at the bow and stern too) to take in the masts, bridge, wheelhouse and guns from above.
Rockfish stand out dark against the brightness of thousands of plumose anemones, and tiny jellyfish hang in the water all around me.
As I reach the stern and turn to take a look back over the distance I've just travelled (with vis of around 15m, it's a sight to see), I disturb a large cabezon, similar to a scorpionfish.
Disgruntled, it moves off to a more sheltered spot on the deck.
I watch it for a while, then head towards the wheelhouse with an eye on my no-deco time – at 25m down, the deck of the Sask is deceptively deep.
Entering through a doorway on the portside, I swim past a tiny toilet cubicle, up a ladder and through a hatch onto an upper section of the deck – anemones, cloud sponges and featherstars almost block my way in places.
There's clearly a massive amount more to see – I'd love to go further down into the wreck, in particular – but that'll have to wait for another time. I'm low on air and it's getting chilly down there.
As Ed moors the Calle Sea close to the sheltered southern side of Snake Island, I watch a bald eagle perched on a little lighthouse. Harbour seals bask lazily on a semi-circle of pockmarked sandstone rocks nearby, occasionally dropping into the water with a gentle plop.
We're really quite close to them, but the seals are not at all troubled by the boat – Ed has been bringing divers and snorkellers there for years, and everyone always gets along very nicely, he says.
The sun is beating down on the water, lighting up the laminaria kelp on the rocky seabed 9m below when I roll in for the final dive of the trip.
However, by the time I reach the top of Snake Island Wall, at around 20m down, that brightness feels a world away.
Fifteen metres below that, where a huge, anemone-encrusted overhang cuts deep into the wall, the darkness is almost complete, lightened only by a faint aura of green filtering down from above.
Beneath me, there is nothing – more than 200m of impenetrable blackness that makes my head swim even to think about. I've dived walls this deep in tropical seas, but this is a different experience: thrilling, strange and just verging on scary.
Making my way slowly back up the wall, then across the sloping seabed leading up to the shore, I spot prehistoric looking chitons, volcano-like giant acorn barnacles and tiny shrimp sheltering in cracks in the rock.
Shallower still, red leafy kelp grows beneath laminaria, the seabed a lush garden as far as the eye can see.
ED TOLD ME TO LOOK OUT for the harbour seals at the end of the dive – they're often playful with people in the water, he says – so I surface to see if I can find them.
They're nowhere to be seen, and I'm about to call it a day when suddenly a slick grey head appears at the surface about 20m away.
I duck down to try to catch a glimpse of it under water, but the vis, while good, isn't quite good enough.
Undeterred, I fin towards where I last saw the seal, straining my eyes against the green. Nothing. I surface again – there it is. I duck back under – nothing.
Finally, my patience is rewarded: a smallish harbour seal, dark grey freckles marking its almost blueish fur, swims towards me, before circling around and away. A few seconds later it's back, close enough for me to look into its beautiful, black, puppy dog eyes.
I stand on the sandy bottom, the seal swimming gracefully around me again and again, as curious about me as I am about it.
The water is warm there just beneath the surface on this sunny June day, and I have plenty of air left in my tank. It's a long time before I return to the boat.
FACTFILE
GETTING THERE: Air Canada from Heathrow to Nanaimo, via Vancouver.
DIVING: Sundown Diving, www.sundowndiving.com
ACCOMMODATION: Inn on Long Lake, www.innonlonglake.com
WHEN TO GO: Sundown Diving operates all year round, but visibility is at its best in autumn and winter, when temperatures drop to around 7°C at depth (compared to around 10° in the summer).
CURRENCY: Canadian dollar. Credit cards accepted almost everywhere. Tipping expected.
PRICES: Flights from £475. B&B?at Inn on Long Lake from Ca $1150 per room for seven nights (two sharing). Sundown guided dive charters from around £70pp. Full gear rental £25 (wetsuit) or £43 (drysuit). Air-fills £3.
VISITOR INFORMATION: Destination British Columbia, www.hellobc.com
Appeared in DIVER May 2016