ABC is a whole lot more than simply a shark diver, but if he has to choose it's great white encounters that scratch the award-winning wildlife cinematographer's itch, as he tells STEVE WEINMAN.
Also read: PADI names 12 world-beating shark-dive sites
I have to ask: Is Andy Brandy Casagrande your real name, or was it adapted for professional purposes?
"Yes, it's my real name," says its owner, who must be weary of being asked about his memorable monicker. "My middle name Brandy is my mother's maiden name, and Casagrande is my dad's surname."
OK, fair enough. Andy Brandy Casagrande IV is a US wildlife cinematographer with a passion for sharks. He has worked for TV networks National Geographic, Discovery Channel, BBC and Animal Planet as well as ABC, NBC, CBS and Fox, and won Outstanding Cinematography Emmy awards in both 2011 and 2013.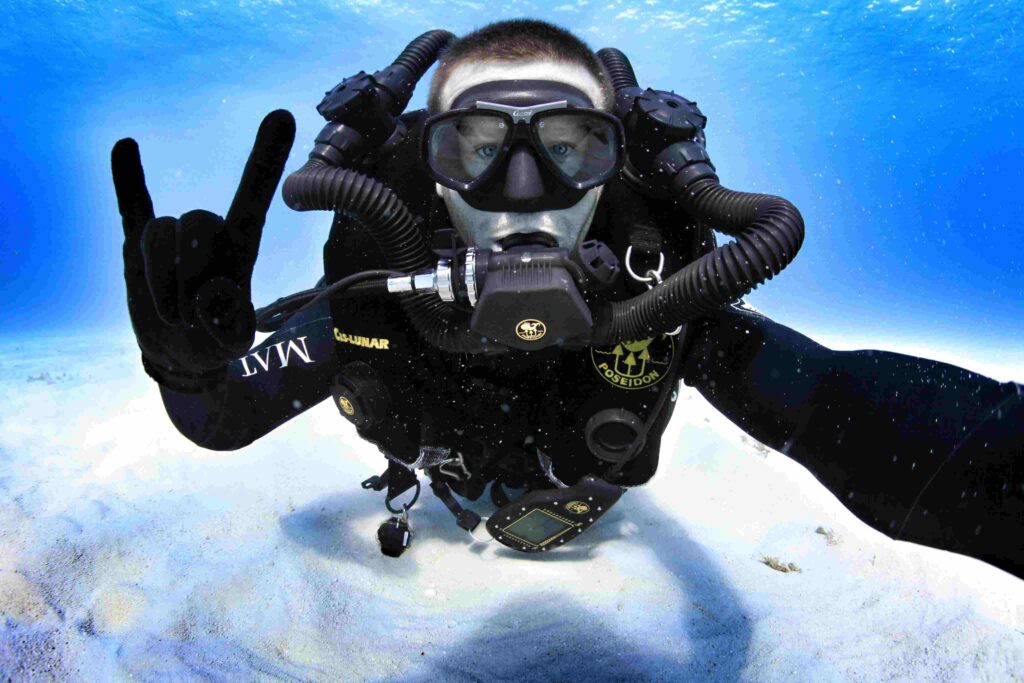 A conservationist, contributor to numerous scientific research expeditions and great white shark specialist, he has also helped to produce, shoot and host many shows on Discovery's Shark Week, the annual TV extravaganza that continues to divide opinion among shark enthusiasts.
As we exchange questions and answers Casagrande is working on a typically exciting project in the Bahamas, making a documentary about great hammerhead sharks while using closed-circuit rebreathers "to get as close as possible and dig deeper into the secret lives of these high-performance predators".
How did his underwater career originate? "I took my first open-ocean scuba dive in Monterey, California in the year 2000," he says. He would have been 23. "I began taking photographs of wildlife in 2002 in South Africa while working for the White Shark Trust as a field researcher.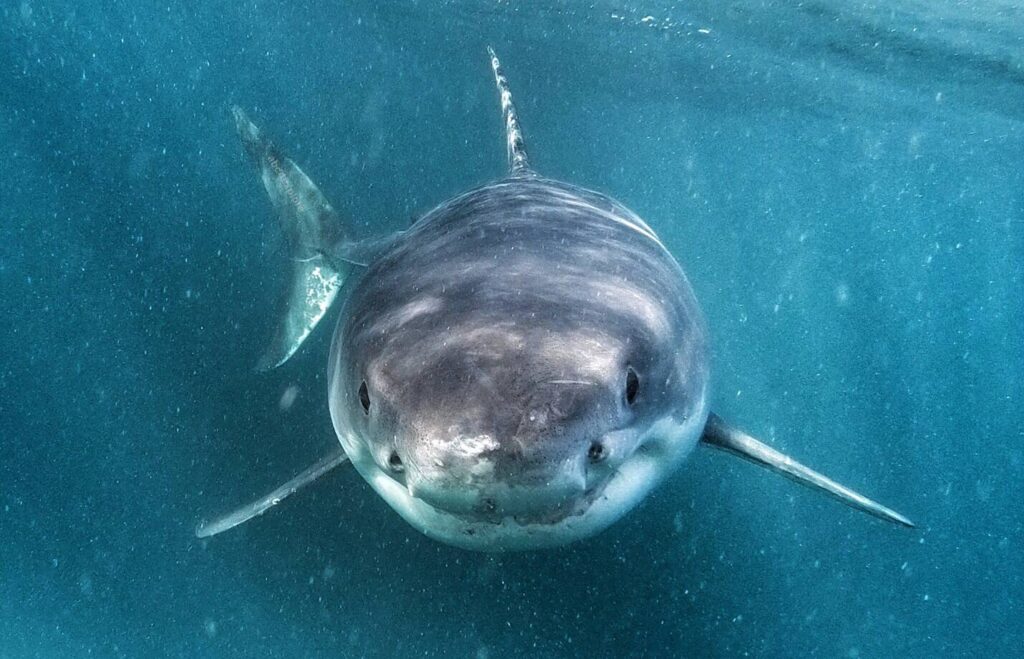 "I was simply born with an extreme fascination with sharks. I saw my first great white shark on television when I was a young kid.
"My first stills camera was given to me by my Aunt Peggy and was a Yashica 230AF – I still have it today. My first underwater video and stills camera was a Canon PowerShot S400 inside the WP-DC800 housing."
The New Yorker, now 45, studied marine biology at Florida Institute of Technology and then Pittsburgh University, where he got his degree. In an unusual move he would later obtain two further degrees, in psychology and biopsychology, from California State University.
"This was based on the fact that my mother was a paranoid schizophrenic," he says. "I was fascinated by her extraordinary condition and realised that I could apply the study of human psychology to sharks, specifically to understand their predatory motives and behaviours better, as well as their unique personalities and idiosyncrasies."
Greatest accident
Casagrande's first job was as tech-support engineer with a software company, and while there he sent copies of a job-seeker video to three white shark research teams, in California, Australia and South Africa. The latter application worked – the White Shark Trust offered him a three month stint as an underwater stills photographer.
He moved to Cape Town in 2003, and soon found himself working as a research cameraman, collecting video data for the team's study of the population dynamics of great whites. During his two years doing the job he bought himself a video camera to help him film shark behaviour outside the cages.
"I never planned to become a professional photographer or film-maker," he says. "It happened simply by accident when National Geographic came to make a documentary film about the research we were conducting on great white sharks, at which time they offered me a job as professional wildlife film-maker." NatGeo had been impressed by his footage, and he moved to Washington DC to take up a staff post there.
"Getting a job at National Geographic was the absolute greatest accident of my life," says Casagrande. "They introduced me to the world of wildlife film-making in a way I could have never imagined.
"They sent me around the planet to film the most incredible wildlife spectacles on Earth, from king cobras and killer whales to Nile crocodiles, lions, cheetahs, polar bears and everything in between.
"These have been the greatest adventures of my life, and I even met my wife Emma while on assignment in the Serengeti, filming the largest pride of lions in Africa." That was in 2007. "I couldn't be more thankful for these opportunities – they completely changed my life!"
'Sharks will save us!'
By 2013 Casagrande had formed his own production company ABC4Explore to create wildlife documentaries, feature films and TV commercials. He works closely with his wife Emma Johanna Casagrande, a Swedish professional photographer, safety diver and editor. They have two children, Nova Fin and Ace, who were both diving with sharks (whites and hammerheads) by the time they were four.
The cameraman has now made well over 100 films and encountered many iconic wild animals along the way, but if push came to shove, would sharks take precedence? "Yes, because I'm addicted to great white sharks," he says. "Simple as that."
Casagrande is on a shark conservation and awareness mission, so does he regard recent international developments on their protection, such as the expansion in numbers of protected species at the 19th CITES, as encouraging? "I'm very optimistic: we will save sharks, and they in turn will save us!" he says.
I ask him to describe one or more of his favourite shark-diving experiences. "Too many to describe," he replies, not entirely surprisingly, "but diving uncaged with the great white shark brothers in Western Australia was the greatest dive of my entire life."
He is referring to two sharks that appeared inseparable and which Casagrande described as "true blood brothers". Sibling-bonding had barely been considered in the species before.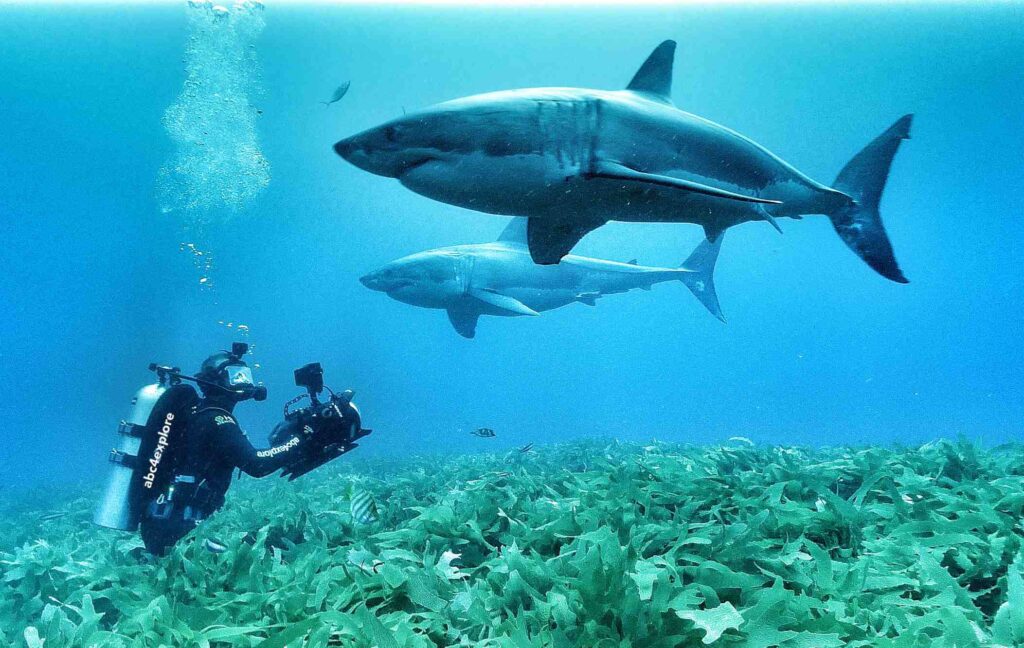 Australia joins the Bahamas, Mexico, New Zealand and South Africa as his favourite places to dive – all, of course, great white hang-outs. That said, shark-diving in Mexico has just taken a major hit.
"I'm very disheartened by the closure of Guadalupe Island to eco-tourism," says Casagrande. "In the absence of the shark-diving boats, there is increased potential for illegal poaching activities and I fear that the great white sharks will be a primary target."
The closure was ostensibly motivated by concern for the sharks' welfare, but on the other side of the scale, has he had any worrying moments among his shark encounters? "Yep, my wife Emma almost got decapitated by a tiger shark in the Bahamas," he says. "It was my fault, no further comment."

Emma, his professional as well as marital partner, shares many of his underwater experiences. "I wouldn't have it any other way, the world of wildlife is simply too phenomenal not to share with your spouse and entire family… the entire world for that matter."
Would his children follow in his footsteps? "They have freewill and can do what they want, but all signs point to yes!"
Undying respect
Is there a secret to obtaining great shark footage? "No secret, just lots of hard work, unrelenting passion and undying respect," says Casagrande. For any Divernet readers who would like to develop their career in a similar direction, his message is this: "If you're keen to get more into sharks or wildlife film-making in general, my basic advice is to get out into the ocean and scuba-dive and/or freedive as much as possible.
"If you don't have access to the ocean, then try hard to actively learn as much as you can about sharks and the ocean by doing your own research via the Internet.
"Start talking to various shark-research teams and shark scientists around the world to see how you can contribute to their work or how to start your own research or film project. Get out into the field and get real hands-on experience with sharks and, of course, shoot and film as much as you can!
"Use Google to find all the latest and greatest shark intel around the world. Ask why / when / where / who / how / what is going on in shark research and cine science.
"There is no set path, you just need to work hard, be super-passionate, kind and genuinely interested in the welfare of your subjects – and just do it. Live the life you dream!"
Shark-wear from Casagrande and PADI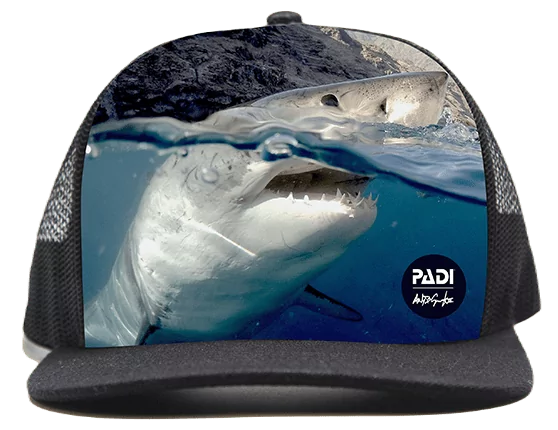 Andy Casagrande has teamed up recently with PADI to design a PADI Gear sustainable limited-edition collection that "gives consumers a more balanced perspective of sharks and inspires them to join us in being united in fins and taking action to protect them".
The move is part of the training agency's Blueprint for Ocean Action, set up to reduce the number of sharks and rays facing extinction by 25% in the next decade. The signature collection features a towel and trucker cap, both made from recycled plastics, and a sustainable T-shirt. All carry Casagrande's imagery, as shown above and previously reported on Divernet.
Fifteen per cent of the net proceeds will go towards funding international shark conservation efforts, such as the recent successful campaign advocating for CITES protection of more species of shark.
"I love sharks more than anything," says Casagrande. "This special collection with PADI has allowed me to fund their protection and change people's perspectives about their role in the health of our shared blue planet." Find the collection here.
Also on Divernet: Shark Angel No 1, 4 Scuba Divers Who Swear By Adaptive Teaching, 80 Years On: Cousteau's 4 Scuba Hotspots