Diver ROSS MCLAREN ventures away from his customary beat on Scotland's west coast and across the country in search of a creature that has got him fascinated – and he finds underwater St Abbs a toothsome eye-opener
When I started scuba diving in Scotland, it opened my eyes to a whole host of marine life I had no idea we had in our waters or, in some cases, even existed. One particular creature that fits the description is the wolf-fish.
I had heard other divers talking in passing about wolf-fish over the years, but it wasn't until I spotted a post from Mike Clark about running a "Wolfie Workshop" that I really took any notice. After a quick scroll through his post, and then a search on Google, it didn't take long for me to decide that I had to see one of these unique creatures.
As I'm always quick to admit, I'm no marine biology expert. My expertise under water at one time hardly extended beyond "It's a fish!", and my attitude was that I would just press the button on the camera and let others do the identifying part.
However, over the years I have tried to expand my knowledge. The east coast of Scotland around St Abbs seems to be about as far south as these incredible creatures are found, and my initial researches appeared to indicate that if divers were able to find them shallow, that made us quite lucky.
Wolf-fish often prefer depths ranging from 60 to 300m and, while these fish might be cool, I wasn't sure they'd be cool enough to tempt me into looking for them at such depths. In and around 15m would suit me just fine.
Heading east
The only issue with going to see these awesome creatures was that I would have to make a very early start to travel from Scotland's west coast to the east. Much as I love an early start, this might have been just too much of a stretch even for me.
I've never liked going away overnight without my wife Rachel, and now that we have our daughter Hannah it's even harder, but after an hour or two of debating Rachel convinced me to head east the night before diving.
Yes, she convinced me to go away for the night – I think she just wanted a bit of peace and quiet. I guess after six weeks of my company over the summer she needed a break. Whatever the reason, I'm so glad that she did.
Not only did I get the dives on the Wednesday with Mike Clark, but I also managed to muscle in on Pentland Sub Aqua Club's Tuesday-night dive on Shore Diver with Roberta McMath out of St Abbs.
If there's ever an example of how local knowledge is key, this was it. Roberta and Andy Colls took me straight down to see "their" wolfies, and those fish really didn't disappoint,
Eggs in winter
Apparently it's during winter that wolf-fish are thought to head for deeper waters, where the females lay their eggs on the seafloor. During the summer months they return to the same caves and crevices year after year, and it seems that Roberta and Andy had struck up a good relationship with one particular individual.
With wolf-fishes' rather intimidating (though sometimes comical) faces and fierce-looking fangs as their heads poke out of their crevices, I could appreciate the soundness of advice about not sticking fingers into those holes. And having read that they prey on "armoured" animals such as urchins and crabs, I was careful to observe guidelines about not touching any sea creature during dives.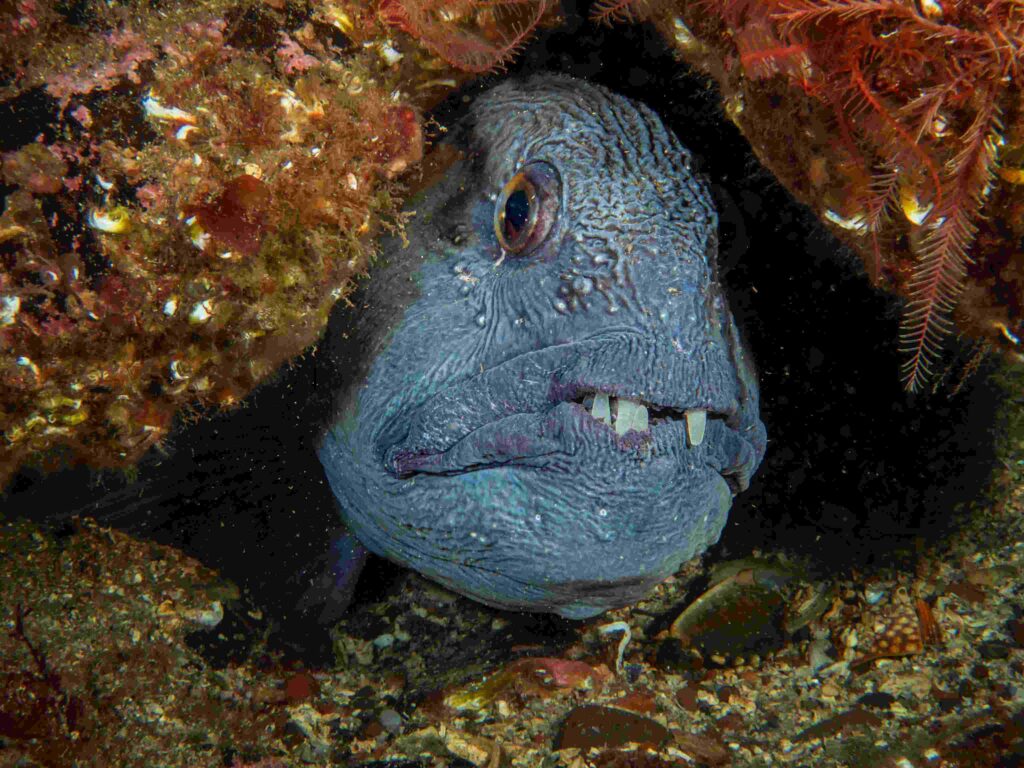 On the topic of wolf-fish teeth, at first I felt a bit sorry for some of them. They looked as if a wee trip to the dentist wouldn't go amiss, and a set of dentures would seem to have been in order for at least two of those we saw. But apparently they grow a full new set every year!
The new teeth grow from behind the old ones and replace them, I guess this happens when they fall out or are worn away from crunching all those shells. That sounds a lot better than root canal treatment.
Star performers
The wolf-fish were clearly the main act, but the supporting cast wasn't bad either. The seabed on the east coast off St Abbs was awash with life and colour, with no shortage of marine-life sights to see.
My camera didn't know what had hit it, and by the end of the two days' diving my memory card was considerably fuller than before.
In my six years of diving, I've seen some incredible things here in Scotland. Things I didn't know we had; creatures to which I was oblivious – but the wolf-fish are probably the highlight of my diving so far.
Both days brought some of the best dives I have had, although without the local knowledge of Mike, Roberta and Andy there is no way I would have had those experiences.
And it certainly wasn't only the wolfies that blew me away. I found the life off the east coast superb. When we dive the sea-lochs in the west where I live, we sometimes get excited when we see the odd lobster or dahlia anemone, but around St Abbs – talk about being spoilt!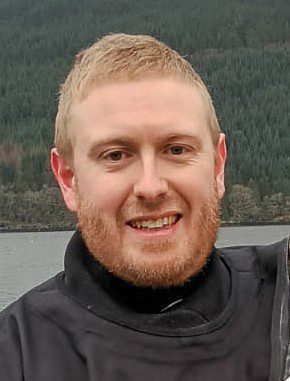 Also on Divernet: Above 18m: The 'Wick' At St Abbs, Tempted By Temperate Seas