archive – TrainingUnder Ice With Altitude
'Normal' takes on new meaning if you're Swiss – ALLY McDOWELL, who usually goes for depth rather than height, joins divers breaking the winter ice 1900m up in the Alps, while other local adventurers set to building a Jacuzzi in a snowstorm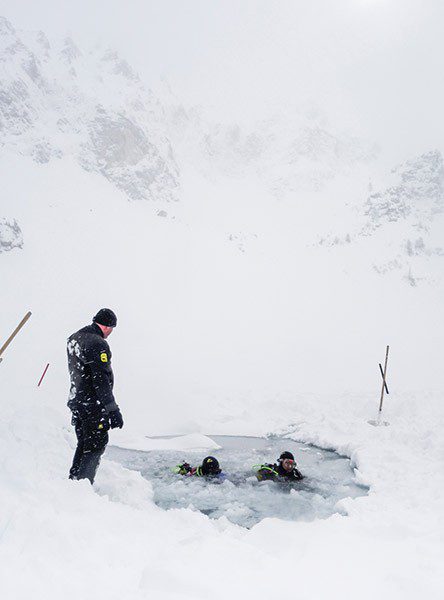 WE'RE 1900 METRES up in the Swiss Alps, woke to 30cm of fresh powder, and the first divers in the lake just discovered that two of the three holes have frozen over so thickly that they can't break through.
I tell myself that I've dived deeper than 100m more than a dozen times, and surely being under metre-thick ice with only one exit hole can't be that scary.
I'm here at the insistence of my Swiss friends Claude Schaffter, Stéphane Peterhans and Blaise Jeanneret, all deep technical rEvo rebreather divers. I met them on an expedition to find a missing WW2 submarine in Sudan last year.
For them it's normal to jump into Lake Geneva for 2-3-hour dives to 100m once or twice a week.
Visibility there can vary greatly, from centimetres to 10m, and the 6°C winter water temperature doesn't deter these well-equipped divers.
I have yet to dive Lake Geneva, but my buddies mention beautiful rock formations, several wrecks and plenty of fish, with a highlight being spawning Arctic char (Salvelinus Alpinus) found 60-80m down in November and December.
Claude and Stéphane have been part of Les Foulques Dive Club in Lutry, a town near Lausanne, for more than 25 years, while many others members have belonged for at least a decade.
This close-knit group dive Lake Geneva on Thursday evenings, followed by a meal, and often dive together on Sundays as well, when they take their boat out and have cheese fondue waiting onboard when they step from the water.
They also dive other Swiss and French lakes, including the one I came to dive.
LAC LIOSON, an hour's drive from Lausanne, is a small lake in a valley within the Alps mountain range.
Club-members have dived there every winter for more than 20 years, and in recent years have taken to cutting the ice- holes in January for the various groups of divers who visit at weekends.
We left Lausanne in the evening in rain, but this quickly changed to heavy snow on the drive up. Everyone has four-wheel-drive vehicles, so you have to trust that they can handle the weather conditions.
Claude explained that it was traditional to dine at the foot of the mountain at the restaurant run by the family that owns the only chalet on the lake. You have two options: cook your beef, venison, and/or horse on your personal hot stone, or cook your meat in hot oil (meat fondue).
While I was enjoying the novelty of hot stone cooking in the merry restaurant full of locals, I couldn't help but notice the buckets of snow falling outside.
By 10.30pm it was time to drive for a further ten minutes through up to 10cm falls of snow to where we would leave the vehicles, unload our kit, and take a high-powered snowcat plough vehicle up the mountain.
The Swiss are hugely efficient at handling heavy jobs in snow, and it didn't faze them one bit to load a few dozen cylinders and everyone's dive-kit into the container at the front of the snowcat and carry 10 people in the back.
It took 25 minutes on a steep incline to reach the chalet in near-blizzard conditions. I've experienced a range of extreme weather when heading to dive-sites, including a hurricane that interrupted our diving in Cuba, but this journey ranked as the most memorable – and the most fun.
NOW IT'S MORNING, the heavy snow has lightened and Claude sits me down to go through ice-diving logistics and problems that can arise with equipment in cold temperatures.
When diving under ice you use either a twin-set or a single cylinder with two independent closable valves to fit two regulators. Each first stage has a second stage and either BC or drysuit inflation for independent buoyancy control.
This allows redundancy, as even coldwater-rated regulators can freeze and freeflow, especially if there is a distinct temperature difference between air and the water temperatures.
To reduce the chances of freeflowing, you start breathing off your regs only once you're under water.
Many ice-divers prefer to dive a bit negative because of the overhead environment, and in addition you need extra weight at altitude; I took 3kg more lead than usual.
I didn't find the temperature, which fluctuates from zero at the surface to 2°C at 15m, to be much of a problem, but I'm used to diving deep wrecks in the Baltic so came prepared with a heated vest, thick thermals and drysuit.
However, it's important to be aware of the physiological effects of cold water, because your thought processes and ability to react do slow down.
Diving in an extreme environment calls for you to be calm, because panicking could put you in trouble a lot quicker than diving in balmier conditions.
A big hazard when ice-diving is getting lost or stuck under the ice, so precautions must be taken. When Claude and the dive group chainsawed the three diving holes in January they also laid an underwater line going 50m between each of them.
My Swedish tec buddies insist on wearing a tether from the main hole, but in Switzerland there is only the guideline between the holes.
There is always shore cover at the main hole to help with kit, getting in and out of the water and shovelling slush out of the hole, as it was often snowing on my visit.
CLAUDE AND I kit up in the ground floor of the chalet and walk 100m down a little hill to the main hole in the middle of the lake. It's Claude's second dive of the day, his first having been to open the second and third holes, which are usually kept accessible by local dive clubs at weekends. Claude had eventually broken through the second hole, but the third remained frozen over.
We plan to head to the side of the lake nearest the chalet. I am instructed not to touch the very silty bottom. I pull my camera system out of the snow, kept cold so that there will be no temperature difference to cause condensation on the lens or port, and slip into the icy water with a wee bit of trepidation.
My first impression is of how clear the water is. Visibility is 30m, but the metre-thick blanket of snow sitting atop the ice makes it dark. We turn on torches as soon as we start descending, and while the literally freezing temperature is a bit of a shocker, my focus quickly shifts to what to photograph and how best to capture this stark environment.
There isn't much life in the lake apart from 15cm trout that hang out on the bottom and don't move much – except when you try to photograph them.
Lac Lioson is promoted as a fishing-spot in the summer months, and on the chalet walls there are photos of people holding 40-60cm fish, so I assume that they either stock the lake in summer or the big fish go to the deepest part in winter, where it would be warmest.
We don't see much in the way of cool rock formations, and I can't see any wide, picturesque expanses of ice because it's so dark. The most entertaining part of ice-diving is the silly antics of the divers.
A popular YouTube video posted by Finnish divers was filmed upside-down, with divers fishing and filling a wheelbarrow while sitting or walking upside-down on the ice.
I'm not sure if people walk upside more now because of that video, or whether they just like watching their bubbles go down, but some of my favorite photos from the trip are of inverted people.
It isn't as easy as you'd expect to walk upside down on ice and I find it quite disorientating, so stay head-up most of the time.
ANOTHER HIGHLIGHT is the way bubbles move under the ice. They group together in patches and slowly swirl in one direction or another, which can be quite hypnotizing. I occasionally stop in one spot to watch them, but the longer you pause the more you feel the cold, so I tend to keep meandering as we pass from one hole to the next.
I do three dives over two days, with my dive-times clocking in at 30-40 minutes per dive. I had expected the altitude to be more of an issue, but Claude doesn't even adjust his dive-computer. The Shearwater technical models we both use recognise that the diver is at altitude automatically.
We don't go below 15m, and spend most of our time around 5m, so height is not really an issue.
However, I do find that the vacuum alarm on my camera housing won't function properly – Nauticam later tells me that older electronics can't calibrate at altitude, whereas more recent electronics calibrate automatically.
You do feel a bit more tired being so high up, but otherwise the main considerations are the logistical one of hauling everything up there, observing safe procedures, checking equipment and having emergency contingencies in place.
So I have no dramatic problems to report, and apart from a few freeflowing regs the diving went off without a hitch, in typical Swiss fashion.
Most enjoyable is to see how normal it is for the Swiss to take advantage of the extreme environments in which they live.
During our weekend at Lac Lioson a 40-strong group from the Swiss Federal Institute of Technology in Lausanne gather there for their annual winter jacuzzi. Refusing to hire the snowcat to haul their gear up the mountain, instead they ski uphill on multiple trips of a few hours each towing sleds full of tarps, pool-siding, wood, pumps, tubing, generator, tents, bedding and more.
Many end up spending some time in the chalet because of the cold and the frequent snowfall, but they do manage to build and heat the jacuzzi to 38°C in 12 hours. What they are doing seems insane, but in conversations with them they argue that the divers are crazier.
We might not find remarkable underwater critters or wrecks in Lac Lioson, but it's quite special to join the Swiss in their extraordinary idea of what is normal.
There aren't many places in the world where you can leave a dive-site by luging down a mountain during heavy snow, finishing up exactly where the car is parked. How awesome is that?
Appeared in DIVER July 2016