DIVING NEWS
Bahrain to sink plane in race for divers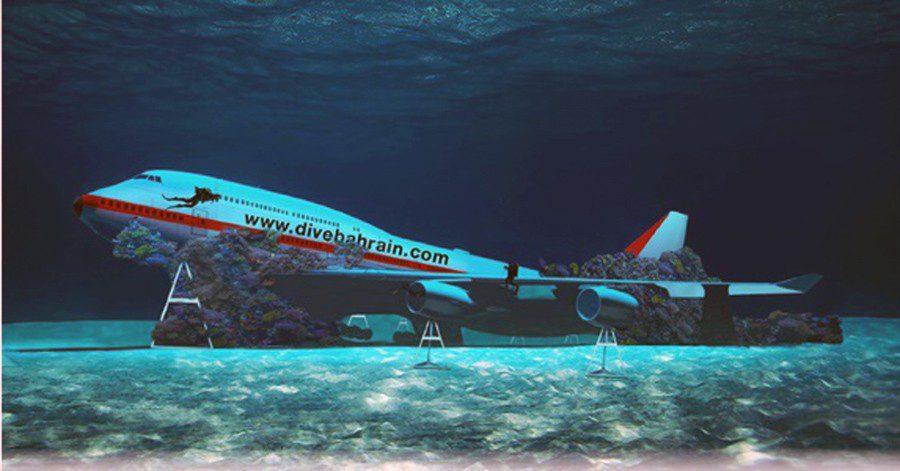 Impressively coralled-up jumbo jet. (Picture: Bahrain News Agency)
Large aircraft deliberately dumped to attract diving tourism seem to be quite the thing, following recent sinkings in Turkey and Jordan, and the latest is set to take place in a Middle Eastern country not renowned for its natural underwater attractions – Bahrain.
The kingdom plans to unveil what it calls an "eco-friendly underwater theme park" this summer, with its centrepiece a decommissioned Boeing 747 jumbo jet, bought in from Fujairah in the UAE.
At 70m in length it is being claimed as the largest aircraft ever to be submerged – the A300 Airbus off Kusadası in Turkey is 54m long, and the Jordanian Air Force C-130 Hercules transporter in Aqaba measures 30m.
Bahrain's aircraft won't be alone in the sand, either. The site, covering a 100,000 sq m area of seabed, is also set to include structures such as a replica of a traditional Bahraini pearl merchant's house, along with "artificial coral reefs and other sculptures fabricated from eco-friendly materials, all submerged to provide a safe haven for coral-reef growth and a habitat for marine life".
The project is being carried out by the kingdom's Supreme Council for Environment, Bahrain Tourism & Exhibitions Authority (BTEA) and the private sector.
According to a statement from the council's Sheikh Abdullah bin Hamad Al Khalifa issued through the Bahrain News Agency, the project highlights the kingdom's commitment to preserving its marine habitat by incorporating "the highest international environmental standards", making it "a global leader in the field of eco-tourism and the preservation of marine wildlife".
Claiming that the site would become an international tourist attraction "given its large area, location and unique experience for diving enthusiasts", the sheikh added that it would provide researchers with "rich information and data on marine ecology and biology".