A recently discovered subtidal seagrass bed in St Austell Bay is the biggest-known in Cornwall and among the biggest in the UK, according to a new report from Cornwall Wildlife Trust (CWT) and Natural England. The 359-hectare meadow is said to provide a flourishing habitat for many marine-life species, including seahorses.
The bed was revealed as a result of the St Austell Bay Blue Carbon Mapping Project, part of a nature recovery programme announced at the G7 Summit in Cornwall in 2021.
The announcement follows those in 2022 of a 290-hectare seagrass meadow discovered in Mount's Bay and others in the Fal and Helford estuaries covering 172 hectares, as reported last July on Divernet.
"Seagrass meadows are thought to have surrounded much of the UK in pre-industrial times when our seas were far richer in marine life, so the discovery of this significant bed today is a cause for celebration," says CWT. Historical UK seagrass meadows could have stored 11.5 megatonnes of carbon and supported around 400 million fish, according to estimates.
122 species
The St Austell Bay discovery resulted from echo-sounding surveys to identify "blue carbon" storage habitats, carried out by CWT in partnership with the Cornwall Inshore Fisheries & Conservation Authority. Seagrasses flower and photosynthesise in shallow seas yet have been historically under-recorded, says the trust.
Seasearch volunteer scuba divers took part in 22 dives to monitor the Cornish seagrass beds and others containing the coral-like algae maerl. In the process they identified 122 species of plants and animals, including scallops and, in St Austell Bay, the rare short-snouted seahorse.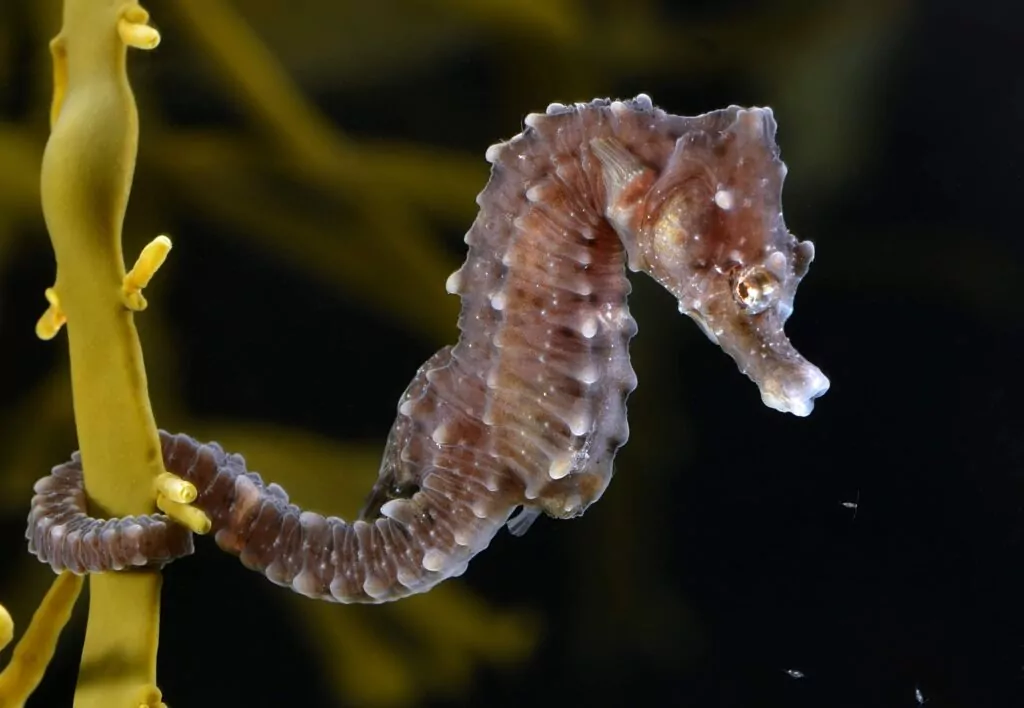 "The discovery of extensive surviving seagrass beds in St Austell Bay is a very exciting development," says CWT marine conservation officer Abby Crosby. "Seagrass is one of the largest carbon sinks we have globally, despite covering only 0.1% of the ocean floor.
"It also serves as a shelter, feeding ground and nursery for a host of marine life, including vulnerable species such as seahorses, and the young of commercial fish and seafood stocks. Seagrass beds play an important role in helping to combat erosion of the coastline from the waves, as storms increase in their intensity due to climate change."
"We look forward to collaborating with a wide range of people, from local residents to marine business and government organisations, to ensure we protect these special marine habitats which will benefit all marine life and our coastal communities into the future."
Also on Divernet: Seagrass Project Gets Going In Cornwall, Blues Meadows Seagrass Project Underway, World's Biggest Plant Revealed in Shark Bay, Divers Shift Seagrass Seeds And Nets, We Should Fight To Protect UK Seagrass, Seagrass Damage A Double Whammy