DIVING NEWS
Wrecks show off new sonar technology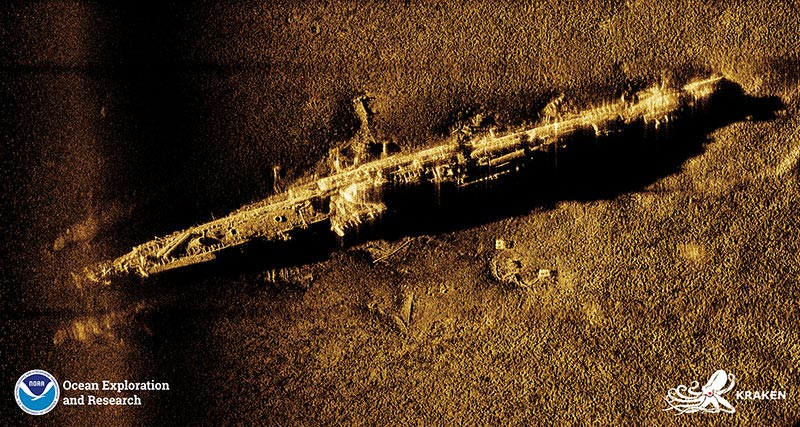 WW2 U-boat wreck U-853. (Picture: Kraken Robotics / NOAA)
Four historic wrecks off Rhode Island on the USA's north-east coast have been used to test new technology that is said to render seabed and wreck images in 30 times more detail than conventional sonar scanning.
The University of Rhode Island, which suggested the wreck-sites to NOAA (National Oceanic and Atmospheric Administration) when its Office of Exploration & Research was seeking a suitable testing ground, is using the new imagery to help build a case for greater protection of the vessels by the US Navy and the state.
Rhode Island was heavily involved in the development of submarine warfare from the Civil War period onwards, and during both world wars manufactured large numbers of torpedoes in Newport.
The imaging was produced using a Kraken Katfish active towfish, which employs a technology called "synthetic aperture sonar" developed by Kraken Robotics of Newfoundland.
The wrecks lie in Narragansett Bay and Rhode Island Sound. Among them are two war graves, the German U-boat U-853 and its victim US merchant ship Black Point, which it sank off Point Judith during WW2's Battle of the Atlantic on 5 May, 1945.
U-853 was the last U-boat to be destroyed off the east coast, while the Black Point was the last US merchant ship to be sunk by a U-boat.
The new images show the U-853 largely intact but with its pressure hull ruptured. The forward torpedo and personnel hatches and the battery hatch are all visible, as is the conning tower, aft gun-mount and several of the submarine's compressed-air flasks.
The site is regularly visited by leisure divers.
The Black Point lies inverted, with many individual hull-plates visible in the imagery. A small stern section lies 550m away.
The third wreck, US submarine G-1, was built in 1911. In 1913 it ventured deeper than any US submarine of the time, to 78m, but was decommissioned in 1920 and used as an experimental target for depth-charges. It lies in 28m at Taylor Point in Jamestown.
The fourth wreck, another US submarine the L-8, was launched in 1917. It saw active service towed behind a decoy merchant ship to lure German submarines, and was later used in a secret programme to develop torpedoes that would detonate beneath rather than on contact with their targets. As part of this research it was sunk as a test target at the entrance to Narragansett Bay in 1926.
A fourth submarine in the group of wrecks, the USS Bass, has yet to be imaged.
Diving is currently allowed at all the sites, and while there are no plans to change this, the university hopes to conduct a more detailed archaeological survey of the wrecks, with a view to recommending their inclusion in the USA's National Register of Historic Places.