archive – Far EastCharismatic CAMBODIA
Diving from remote fishing villages gives PAUL COLLEY a unique insight into marine life in this lesser-dived south-east Asian country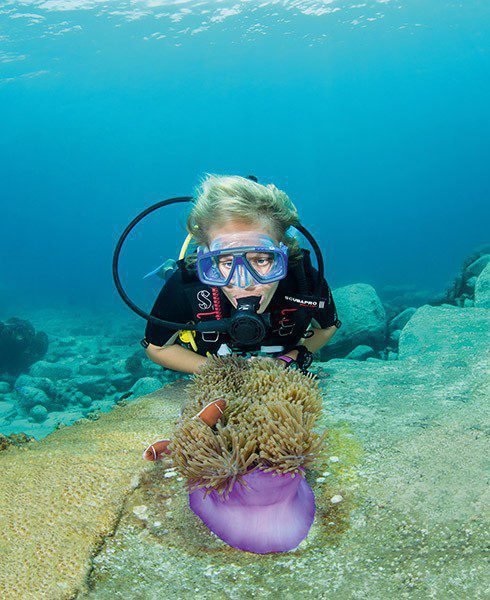 IT WAS LIKE TRYING TO TAKE A PHOTOGRAPH of Mo Farah while competing against him in a 1500m race. A stiff breeze pushed the Cambodian crab-boat against opposing tide as I finned like stink at only 2m depth to force my big camera through the water.
It had sounded deceptively simple: "Take pictures of Cambodian marine life, including local fishing operations".
And here I was, sucking air almost faster than my regulator could deliver it, looking for incarcerated crustaceans as the Cambodian crew hauled crab-pots aboard.
Exasperatingly, only empty crab-traps were rising from the green depths. Finally, lungs burning, I glimpsed a twinkle of bright orange inside a trap and saw my chance. A final kick from tired legs, a rushed composition, and a shot was in the bag.
Three weeks volunteering for a marine-conservation project in the Cambodian Koh Rong archipelago was an unusual assignment. Working for Fauna & Flora International, I was documenting three marine habitats: coral reefs, mangroves and seagrass.
A delicious adventurous twist was independent (mainly solo) diving, while living in and photographing the remote fishing villages – a lovely way to get closer to a country's soul.
Solo-diving and heavy camera equipment quashed any aspiration to travel light. But 15 hours' flying led me to Cambodia programme manager Kate West, who briefed me in the capital Phnom Penh before departure for the coast. Urban sprawl melted into rural Cambodia, and I was glad to leave the frenetic port of Sihanoukville for tranquil Koh Rong.
Longtail fishing-boats are standard transport in the archipelago. In the early days I was helped by Marianne and Ben, two energetic souls doing sterling conservation work through the Song Saa Foundation. They provided excellent support, not least air-fills and valuable local knowledge.
Accommodation was a bush-walk into the fishing village of Prek Svay, with its river water in which to wash, limited electricity, no wi-fi and basic food.
Wonderful! It was an opportunity to embrace village life, which started at dawn with caterwauls and cockerels. No alarm clock required.
My first dives in Cambodia were restricted to sites north of Koh Rong, due to unseasonable strong winds.
These slightly murky shallow reefs have unpredictable currents, so it was still exciting to roll in solo with sound safety plans.
My tours of aptly named Lonely Reef revealed healthy corals and impressive red barrel sponges, sea urchins at every turn and myriad schooling small fish.
Dives at nearby Coral Island were rewarded with scores of pink anemonefish. Here I also joined folk from the local fisheries community during their coral-reef education programme. And later dives on Vista Reef near Song Saa island started to show Cambodia's potential for some good-quality macro photo opportunities, with pretty nudibranchs, colourful sponges and delicate shrimps.
THEN IT WAS BACK TO THE BIG challenge – capturing the essence of local community fishing. I also went aboard a squid-boat and watched the captain work both boat and fishing-gear single-handed against wind and tide. He would sometimes have all four limbs working on different tasks at once.
I conceived an underwater image of a squid freshly hooked by the fisherman's lure, with him and his boat visible through the surface. During a working fishing-trip on a boat not configured for diving, it was not easy.
Any fool can jump off a fishing-boat, but you do need a plan for getting back onto one! In this case it was ad hoc arrangements of old tyres and ropes.
A big issue arose from operating near the boat's propeller. Lack of steerage would risk fouling fishing-gear, so I just had to work quickly once the prop was stopped. With a moderate current and surface swell, a shallow dive under the boat was once again quite hard work, but I just love these challenges.
Around Prek Svay I slowly built up a picture of the local reefs and mangroves. Around this coast litter is a huge problem, and by this stage I had suffered the perhaps inevitable consequences of diving away from tourist infrastructure.
Termites abound in tropical climates, and sooner or later you'll fall through something. For me it was a jetty – unplanned gymnastics, skinned shins, shredded clothes and bruised dignity.
With an urchin spine in my knee too, from an unforgivable momentary lapse in buoyancy control, and with a protruding bolt raking a big hole in the backside of my new wetsuit, a first-aid kit with needle and thread proved essential to sustain warmth and modesty. But mother would not be proud of my sewing.
Koh Rong Sanloem, a sister-island to the south, has some interesting opportunities. I planned to dive with local conservation group Save Cambodian Marine Life and was grateful too for ad hoc support from the Cambodian Diving Group.
Basic accommodation in the village of Mei Pei Bei had a slightly more tourist feel to it, but it's still well off the beaten track and has charm.
Local divemaster Rudi introduced me to the reefs and had a great eye for nudibranchs. With visibility slightly better here at 3-6m, I got a good feel for the coral-reef structure. Boulder-strewn and slightly deeper, typically 6-12m in the most interesting areas, I saw pretty whip corals, giant clams and hundreds of scallop-like shellfish – some bigger fish too, including juvenile grouper.
I enjoyed diving here immensely. The highlight was a muck-dive off a gently-sloping beach. On an otherwise barren seabed, the marine life was prolific: octopus, cuttlefish and flatfish; weird and wonderful crustaceans; delicate sea-pens and stout pencil urchins; gorgeous anemones with tiny glass shrimps.
Best of all was the signature creature for this area, the seahorse, which is under threat from the traditional Asian medicine trade and illegal bottom-trawling. With the help of Rudi and later James of Save Cambodian Marine Life,
I found and photographed several specimens. One tiny creature clung onto the base of its host sea-urchin, while hunting head-down during its slow hitch-hike across the seabed.
BACK AT THE LOCAL JETTY, I rediscovered that these wooden structures are fabulous places to observe life, both above and below water. Marine life gathers beneath them for protection from predators. Shafts of ambient light create wonderful atmosphere and, as you ease up to the pier-legs, you see razor mussels, small sponges and crabs.
Above water, children learn how to fish there. With suitable precautions against the heavy ebb and flow of fishing boat traffic, these shallow and often clearwater dives are wonderfully productive. I also took a shore-dive out to a local coral-reef nursery, where tiny crabs and juvenile fish darted around new-grown branching corals.
My favourite fishing-village was Daem Thkov, where I photographed the crab-boat operation. The owner of Inn the Village, my accommodation there, was Kylie. He runs conservation projects, but opens his doors to other visitors too, and can support scuba-diving.
Rustic accommodation, bucket showers and limited electricity deliberately mimics village life. You feel part of it and are encouraged to eat with the locals, which I really enjoyed.
My task there was to document seagrass and coral reefs, and I was impressed by the variety of creatures in these natural marine nurseries.
A gentle three-hour boat-ride north to Koh Sadak, outside the Koh Rong archipelago, led me to two fascinating dive professionals, Kris and Hege. They left Norway and took a 10-year lease on part of Koh Sadak's land.
More a home-stay than a guest-house, their creation Octopuses Garden is a wonderfully quirky wooden house on the water with an embedded small dive operation that can accommodate groups of six easily, eight to 10 at a push.
Accommodation is basic, clean and comfortable, with a bucket-flush loo and ocean-view shower. The owners are environmentally conscious and the dive operation includes a compressor and all dive-gear.
You can explore the house-reef metres from where you live. A good critter-dive, it has octopuses, crabs, anemones, lots of fish and some impressive sponges. While there, I also dived alongside a local conservation group called Projects Abroad, and was delighted to add a pregnant seahorse to my client's portfolio.
The treasure at Octopuses Garden is further afield. Twenty minutes away at Turtle Island, you can sometimes see huge cobias on a pretty coral reef teeming with life.
But the best diving for me was out in the Gulf of Thailand, where the visibility opens out to 20m-plus. Kris and Hege take you there on their well-equipped longtail boat.
FOR MY SHORT STAY, I dived quite extensively during two mini-expeditions to Condor Reef and then Shark Island, but you can do the trip in one, camping on Shark Island overnight. In March and April, thousands of terns visit this small island.
A 6am departure for the two-and-a-half hour trip out is a small price for some great diving. The guys provide a delicious breakfast and coffee on the way out, a curry lunch and snacks with a beer on the way back.
Condor Reef is strangely similar to some Atlantic sites such as Ascension Island. Huge volcanic blocks of rock dominate the underwater scene. Covered in sea-urchins, the reef also teems with fish, notably some beautiful wrasse. It ranges from just below the surface down to 20m, with some spectacular vertical walls.
The huge orange and red barrel sponges growing in colonies are especially impressive. And there's evidence of an old Chinese wreck, with pieces of 400-year-old porcelain still visible on the seabed.
Shark Island is tiny, just a few grey rocks and a couple of palm trees give way to a vibrant coral reef dropping to 20m, rippling with huge anemone beds and giant sponges.
Big schools of medium-sized snapper made this my favourite dive of the trip – one not to miss.
What you'll love about Octopuses Garden is not just the interesting dives, but the good humour, excellent food and home-from-home feel that Kris, Hege and their team provide for guests. It's like staying with friends, and a super place to chill out. I didn't want to leave!
I'm not suggesting that volunteering to work is the best way to dive Cambodia, but if you're travelling and want to dive, there are plenty of opportunities to see some great marine life. The lack of top predators is a sign of over-fishing, but Octopuses Garden has to be top of the list for serious fun.
And if you're passing through Koh Rong, call into Save Cambodian Marine Life or the Cambodian Diving Group. Both outfits will look after you and you'll see some interesting reefs full of invertebrates, fish and other critters.
If you're good with a camera and willing to volunteer some time – well, the world is your oyster!
FACTFILE:
GETTING THERE: Paul Colley flew with Malaysia Airlines.
DIVING: Octopuses Garden Diving Centre, Koh Sadak, www.octopuscambodia. com. Cambodian Diving Group, Koh Rong Sanloem, www.cambodiandivinggroup.com. Paul's other diving was by prior arrangement through Save Cambodian Marine Life, www.savecambodianmarinelife.com, Projects Abroad, www.projects-abroad.co.uk/volunteer-destinations/ cambodia, and the Song Saa Foundation, www.songsaafoundation.org
ACCOMMODATION: Paul stayed in fishing villages and at Inn The Village, Koh Rong, www.innthevillage.com and Octopuses Garden.
WHEN TO GO: November through April to avoid the humid rainy season. February onwards is best for avoiding offshore winds.
CURRENCY: Cambodian riel, but US dollars work everywhere.
PRICES: Flights £700, B&B at Octopuses Garden costs from US?$12pp a night (lunch from $4, dinner from $6). Pay $85 for two local dives or $120 for two remote-island dives, both including gear rental, lunch and drinks.
VISITOR INFORMATION: www.tourismcambodia.com
Appeared in DIVER September 2016