RED SEA RESORT GUIDE
El Gouna
An hour away by boat from the Red Sea's famous wreck haven of Abu Nuhas and a world away from the bustle of Egypt's major underwater tourist hotspots, El Gouna offers an excellent mix of a mellow atmosphere with serious diving.
Situated 25km north of Hurghada on the mainland Egyptian Red Sea coast, El Gouna is a self-contained tourist town built on 10km of coastline with access to more than 40 excellent dive sites.
Although El Gouna does not fall under the remit of any national marine park authority, the area has a strong underwater conservation philosophy. initiated and maintained with the help of the Hurghada Environmental Protection Association (HEPCA).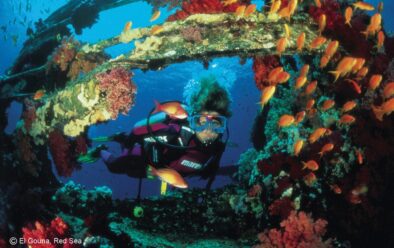 There are dives to suit all levels of experience, from beginners to advanced and technical divers. All the dive sites are within a 30-minute to two-hour boat journey.
Abu Nuhas is the biggest draw for shore-based divers in El Gouna. One of the greatest concentrations of wrecks in the Red Sea, the 19th century Carnatic, the impressive Chrisoula K, photo-friendly Giannis D and the 100m-long Kimon M wrecks are all scattered here at ideal, recreational depths.
Another nearby wreck to El Gouna's shores is the 115m-long Rosalie Muller, sister ship of the world-famous Thistlegorm. At 20 to 46m depth, the Rosalie Muller is a popular excursion for extended range/technical divers.
Lying to the east of El Gouna is a site where divers frequently encounter dolphins. Dolphin House is part of the huge Shaab el Erg reef system and accessible in all weather conditions. The reef acts as a shelter to a resident pod of bottlenose dolphins. They are wild dolphins, so playful diving encounters with them are common but far from guaranteed.
The town of El Gouna is created on a canal-like network of islands among fine sand beaches and shallow lagoons where visitors can experience a whole raft of other watersports, from kite-surfing to canoeing. There are also many activities on offer on land, with an 18-hole USPGA championship golf course, tennis, horse riding, beach volley ball and yoga on the beach.
Little bridges link the different sections of the resort and tourists commute by rickshaw (tuk tuk) between the hotels, the old town and the marina, as well as attractions such as a large open-air cinema.
The standard of restaurants here is excellent, with is a huge variety of international cuisine to choose from. If you are on half or full board with El Gouna's many hotels, it's worth taking part in the area's unique 'Dine Around' scheme. You are given vouchers which can be used and exchanged in most of the top restaurants within the resort.
MORE RED SEA RESORT GUIDES