SPAIN DIVER
Whirlwind Impressions
Every trip to Spanish Mediterranean locations leaves WILL APPLEYARD that bit more impressed with the diving potential, especially for mini-breaks from the UK. So how will the ultra-protected Medes Islands rate on brief acquaintance?
Left: Guide Markoss poses with one of the many sea-fans. Right: Grouper on the first dive.
I fell into this mission accidentally a couple of years ago, while on a trip for DIVER to the critter-crammed Cabo de Palos, in the Murcia region of south-eastern Spain.
Persuaded in that way that the Med really wasn't dead, I decided to find out for myself where else in Spain this sea continues to thrive.
I learned of the Medes Islands while chatting to a dive-guide on a trip to the Columbretes Islands, another marvel of the Mediterranean, situated 2.5 hours away by dive-boat off Spain's east coast.
Could it be that this trio of diving destinations might represent Spain's top three? If so, I felt duty-bound to complete the set.
My research before turning up at the town of l'Estartit, the gateway to the Medes Islands, consists only of viewing a couple of YouTube videos and a glance at a map to see exactly where the islands are located. I like to hit new places from cold.
Incidentally, if you've seen both versions of the name used, "Medes" is Catalan and "Medas" Spanish, so both are correct.
It's early in the season when I get there, and I'm not in the best shape, having driven from Seville through intense June heat without air-conditioning and slept in my campervan beside a petrol station the night before.
Rather than wild-camping for free, I choose the best-looking campsite I can find. Camping Rifort is the closest to the town. It has a pool, a bar, clean-looking washing facilities and, at 41, I appear to be the youngest person here.
There are no fewer than 12 dive-centres in the town of l'Estartit and my friends at the Valencia tourist office have kindly teamed me up with Les Illes Hotel & Diving, which I locate during my first afternoon by cycling toward the marina.
It doesn't surprise me to find that there is no parking right by the marina or dive-centre – these coastal hotspots are often pressed for space – but I'm glad to hear the words "don't worry, we'll pick you up" from the dive-centre's manager on the phone later that evening. I discover that this is common practice for its guests.
What is a surprise is that the Medes Islands lie only a couple of kilometres offshore. I had somehow expected them to be a long haul away by dive-boat.
Appeared in DIVER September 2019
Carlos, who arrives to collect me on the morning of our dive, greets me warmly, as do dive-centre owner Genis Dalmau once we arrive and two of his guides, Markoss and Guido.
Most of the other half-dozen divers on our boat are French and diving with another guide while Markoss and I are to do our own thing, with a German side-mounted chap tagging along.
L'Estartit is only a short drive from the border with France, and French divers are the centre's bread and butter, accounting for 70% of its guests. The balance come from elsewhere in Europe, but they see very few Brits, Guido later tells me.
Other than for snorkellers and day-boat trippers, the Medes is mainly a diving destination. Setting foot on the islands themselves is strictly forbidden, unless you're a yellow-legged gull – which are among the main inhabitants.
I like the fact that the Medes, formed of two large islands tailing off into a cluster of satellite islands at one end, are only a short hop by boat. By the time we arrive at our designated diving buoy, we have only just pulled on our drysuits.
The French divers are all diving wet, with only my group choosing the soft option. If the water temperature is anything cooler than about 23°C, I want to remain dry! Between 25-30m down, where we are heading, we will experience something in the region of 14-16° in June.
The number of boats and divers visiting the islands daily is limited, and designated areas are marked by buoys differing in colour and shape. Some are allocated for the dive-centres, some are private and others are for bathers and snorkellers. Others separate boats under and over 9m.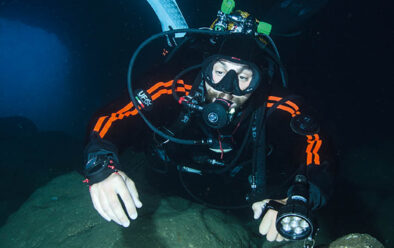 Below the surface, the islands are famed for their large sea-fans, sea-caves and grouper, all of which feature towards the top of my wish-list.
Markoss wants to show me a pair of pinnacles, so the boat ties into a buoy and we stride off the stern to find them.
The French divers are heading in the opposite direction, so we'll have this site to ourselves.
It's a relief to be in the water. Drysuiting-up in hot climates means that you're super-comfy in coolish water, but of course you cook while on the boat.
We descend along a wall with the island to our right shoulders. The water is clear, with a few midwater particles present but without current, and the light is good.
At 20m I notice sea-fans appearing, although I'm told they do live as shallow as 12m. Markoss leads me to a healthy forest of fans crowning a pinnacle of rock like purple and yellow hair. This is the only place that I've seen fans of this size and abundance around Spain.
Guido tells me later that the department of biology at UAB (Universidad Autonoma de Cataluña) has monitored the sea-fans through several projects to examine the effects of diving and water temperature on them, and that the centre had worked with the researchers on sea-fan transplanting.
"This year we've been lucky enough to see them reproduce twice in June," he said. "We were lucky, because this is an event that happens over just two days."
We move on to a second pinnacle and a grouper joins us for a few minutes, a playful beast and one of many that we pass on the dive. I'm impressed by the site, which offers hope for other areas of the sea that are under strain but not yet enjoying such protection.
I immediately like this place, and if I didn't have diving commitments elsewhere in a few days' time I would happily stay for at least a week. We explore no deeper than about 30m on this first dive, but I'm told there is more to see deeper still.
Grasping coffees the following morning, Guido and I discuss our dive-plan with the aid of a site-map. It's cave time, and even fewer divers join our boat this morning.
The sun is still low in the east, the sea flat, silky and the air cool. I love this time of day, and enjoy the boat-ride, chatting to Guido as the islands grow larger.
The boat moors on a buoy near a cliff on the east side of the island. We head down to 18m to find the cave entrance and the site Dolphin Cave, named after the statue sitting on a rock-shelf nearby.
In diving terms this is a cavern, an overhead environment that requires no formal cave-diving certification, and where daylight is visible at all times.
Side by side we disappear through the entrance. It's dark beyond dark, and
I leave my torch switched off to help my eyes to adjust. Guido has told me that the cave is 50-60m long, and it is enormous. There is easily space for five divers to fin side by side, and probably five high.
I can just make out a slightly lighter blue hue at the other end, which I guess must be our exit point. The cave passes right through this part of the island.
There isn't much going on inside – rocks and boulders on the floor, bare rock walls and I assume that the same is true of the ceiling – but the simple experience of being inside is the attraction.
The blue hue grows bigger and brighter, eventually opening into a gaping entrance where we find ourselves now down at 24m. They also call this site the Cathedral, a more fitting name in my opinion.
The famous sea-fans enjoy living at this exit point, surrounding the cave mouth like a yellow handlebar moustache, and filtering food as water flows through and beside the cave.
I'm scouting for grouper, having told Guido before the dive that it would be great to get a few shots of him with one if possible.
Diving back into the cave, we scan the inner mouth with our torches. We catch a shadow of a fish here or a tail there, but they're not in a playful mood. Perhaps they're not early risers?
We're not super-deep, but on single tanks we need to move on. We turn back the way we came and cruise the 50-60m of overhead environment once again.
I hadn't noticed on the way in, but our original entry-point also has two other entry / exit points of its own, with far lower roofs.
The grouper are grumpy here too, and all we see is one slipping out of the cave entrance and into the blue. Guido shrugs, and we write off the fishy photo-shoot.
I love the atmosphere of this place, spooky yet tranquil, the diving easy but adventurous. We stop at the dolphin statue on our way out and give it a pat.
I guess that with no grouper models available, the dolphin will have to do.
Back on the boat, I ask Guido when he thinks is the best time for a visit. "From June till September," he says. "During this time visibility and biodiversity reach their peak. September is the right compromise between water vis, life and number of divers. But take into account that because the marine reserve is well-managed, the sites never feel too crowded."
I feel I have rocked up at the right time, although I do later hear that it's possible to witness baitballing fish here as well.
Cabo de Palos, the Columbretes Islands and, as I now know, the Medes Islands are all shining examples of the power of protection and what can be achieved with relative ease. And as a diving destination, it couldn't be easier to reach from the UK.
Fly straight into Girona, or jump on a ferry in the west and enjoy road-tripping across Spain until you hit l'Estartit in the east. With every visit I pay to Spain, the Med seems that much more alive.
FACTFILE
GETTING THERE> Fly to Girona or take a ferry and drive from Santander or Bilbao.
DIVING & ACCOMMODATION> Les Illes Diving & Hotel, hotellesilles.com. Camping Rifort, campingrifort.com
WHEN TO GO> June-September.
PRICES> Return flights from London, £140. A week full board at Les Illes with six dives costs 616 euros (September) or 546 euros (October). Camping with a van, 9-17 euros pp per night.
VISITOR Information> comunitatvalenciana.com