FAMILY DIVER
Splitting the Dives in Bali
Morten Bjørn Larsen's expectations were high, but could they live up to the demands of a family holiday while fulfilling the parents' need to dive?
There are many anemones on the Liberty wreck with resident clownfish.
Appeared in DIVER November 2019
Because my wife Maria and I became parents almost nine years ago, diving was always a big and natural part of our plans when we started looking at a new holiday destination.
As time passed and we became more experienced divers, we reached the point at which 80-90% of our holiday had to be linked with breathing under water. Culture and other things to see and experience on land obviously came second.
When we decided to become parents, we had no doubt that, as soon we had children, our own needs and pursuits would always take second place. But while becoming a parent is probably the biggest experience that can happen to anyone, we could never forget about diving, and always had a nagging feeling of missing that compressed air.
Even with young children I have been able to keep up my diving, so it was undoubtedly Maria who made the biggest diving sacrifice. In the past eight years, we have only been able to squeeze in a certain amount of diving together.
Five years ago, when our daughter was three, we had a wonderful holiday in Norway. Gulen Dive Centre near Bergen, had teamed up with kindergarten teachers from the city to look after our children and give them some fantastic nature experiences while we and other dive-loving parents headed under water.
Since the arrival of our son, however, our holidays had been less about diving until this summer. With our kids aged four and eight, we had been saving for a trip to Bali, feeling that we could finally reintroduce some diving into a family trip.
If you love diving, you won't want to go to Bali without sticking your head under water, but the Indonesian island also offers a lot of other experiences for all ages.
Friends who had visited before said it was a good idea to move around and stay in different places, the better to sample all the nature and cultural experiences, having travelled halfway around the world for the purpose. However, we chose to stay where we'd have the easiest access to diving.
We ended up in a spacious resort in Kubu. It had two swimming pools, a restaurant and, of course, an in-house dive-centre. Naturally, we couldn't leave our kids alone, so diving together was never an option, but when you're together as much as we are on a family holiday, a little zen time under water is not so bad.
It was clearly not the first time the resort had hosted parents who had to take turns diving. It had a few "share-as-a-family" packages from which to choose.
We ended up buying 11 dives, and as it was Maria's turn to get the most time under water, she got seven and I got four.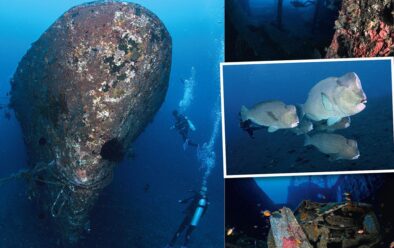 My first dive was on the USAT Liberty, one of those wrecks that many divers who feel the need for rust have heard about. The WW2 transport ship was en route from Australia to the Philippines in January 1942 carrying railway parts and other cargo when she was spotted by a Japanese submarine and came under attack.
A torpedo struck home but the ship didn't sink immediately, so a US and a Dutch destroyer started to tow Liberty to a safe harbour in Bali. They were passing Tulamben when the amount of water taken on became too much, and they ended up dragging Liberty onto the beach so that the cargo could be secured.
The ship was left to rust on the beach until a day in 1963 when the Agung volcano started to erupt.
It released so much lava that the 13,000-tonne, 125m ship was pushed back into the ocean. She rests there now at a nice depth for divers, from 7-30m.
You can dive Liberty in the afternoon and be assured of plenty of ambient light in which to enjoy the beautifully coral-covered wreck, but most divers still prefer to do an early-morning dive, when the sun has barely crawled above the horizon and the kitting-up starts on the beach.
The reason morning dives are so popular is that a small gang of bumphead parrotfish always hangs out at the beginning of the dive, almost exactly where the Liberty comes into sight.
As soon as the sun gets higher in the sky, the bumpheads swim out of sight.
When you're done with the bumpheads and start to explore the Liberty, it's soon clear that time and history have been rough on the ship.
We took a swim around it and made a stop by a huge cargo-hold, where we swam inside for a quick photo opportunity.
A few times, my guide pointed out some twisted metal to me. Before that, I had not always been sure whether it was wreckage or not, but it was a very fine wreck-dive, and everywhere I looked there was life.
There were fan corals, soft corals in all the colours of the rainbow, anemones with resident clownfish and much more to see. Many photographers bring only their macro lenses to the Liberty, because it's guaranteed that they'll find plenty of critters there.
When our bottom time started to run out and we did our safety stop, a small shoal of sweetlips came by for yet another photoshoot – the Liberty really lived up to the hype.
You can hardly miss out on all the tiny critters when you're in Indonesia, and in Bali you won't be disappointed if you want to add some of the most famous to your logbook.
Once Maria had done two wrecks and a house-reef dive with no camera, she really wanted to have a go with mine fitted with a 105mm macro lens. After the dive, she showed me the whole palette of all kinds of nudibranchs and a fantastic image including two ornate ghost pipefish.
I had heard a lot about the dive-spot called Seraya which, like the rest of Tulamben, has almost-black lava sand covering its seabed.
At first glance, this doesn't seem to have much living in it, but with a closer look and a professional spotter by your side, the sand practically explodes with life.
At the dive-centre they instruct everyone in how to approach their subjects. We were told to look carefully around a photo opportunity, and put no more than our knees, and perhaps an elbow, on the sand.
I was armed with a x1.4 teleconverter and a +10 dioptre. Those extra pieces of gear, fitted to my macro lens, made it possible to both focus more closely and enlarge the smallest of the critters, and I hadn't dragged it along with me in vain.
During my only dive in Seraya, I saw skeleton shrimps, many different nudibranchs, tiny crabs, a baby frogfish and other creatures barely visible with the naked eye. However, without my spotter I'm sure I would have had no idea that many of these critters were right below my camera.
Every time I photographed a certain animal and decided that it was time to leave it alone, my guide was hanging out a few metres away, signalling for me to check out something new.
This was a family holiday, however, so it was Maria's turn to get the most time under water. Even though I had time for only four dives, they were pure, world-class dives.
One of them, where the abundance of life was amazing, was only a three-minute walk from the resort.
The main character was a pink pygmy seahorse living in a pink seafan. It wasn't my first time photographing pygmy seahorses but I still feel astonished by these beautiful tiny animals.
I also dived a deliberate sinking from 2014, the Kubu wreck. It was a nice, easy dive on an intact wreck with a little penetration possible. In one of the holds, there's a car to look at, too.
The rest of the trip was just about travelling around Bali and enjoying being together as a family detached from everyday life.
At a turtle nesting centre in Saba they breed and take care of the eggs, to help Bali's all-too-small population of sea turtles recover to former numbers.
We were lucky enough to set three turtle babies free in the ocean – a fantastic way to teach our children about how fragile nature is, and how important it is to take care of it.
Still, the 11 dives we got in between us were enough for us not to miss diving for the rest of our stay in Bali.
Diving together will have to wait until the children are older – or, even better, they can come dive with us!
FACTFILE
GETTING THERE> Flights to Denpasar via hubs such as Dubai, Doha or Singapore. Road transfers to the north coast take a couple of hours.
DIVING & ACCOMMODATION> Kubu Indah Dive Resort, kubuindahresort.com
WHEN TO GO> Year round. Because Bali is just south of the Equator, temperatures stay much the same. European summer months are the dry season in Bali. Water temperature is 26-28°C.
MONEY> Indonesian rupiah.
PRICES> Return flights from £440pp. A bungalow in Kubu resort costs £70-80 a night in low season, rising to £89-98 in high season (mainly July through October). A 10-dive package costs £335, with 10% off for shared family packages.
VISITOR Information> indonesia.travel