MINE DIVER
A Tale of Two Mines
STEFAN PANIS enjoys delving into mines, and he has been diving two old workings on the continent – a German pit that once produced slate, and one in Belgium from which black marble was extracted
Robin at the point at which the main shaft splits in the Felicitas Slate Mine.
Appeared in DIVER May 2019
LAST YEAR I WAS TIPPED OFF about a possible new diveable slate-mine in Germany. I contacted owner Wolfgang Rohr, who turned out to be a very cool guy, but unfortunately it was not yet possible to operate the mine commercially for divers. German regulations are very strict.
In June Wolfgang told me that the mine would be operational from the following month. I had other expeditions on the go, and it wasn't until September that I finally had a free weekend.
With buddies Robin Verbruggen, Cedric Ryon and Steven and Raf Haenebalcke, I set off for Schmallenberg, 44 miles south-east of Dortmund.
The mine was quite busy, with some 10 other divers lined up to enjoy its beauty. As we wanted to film and photograph, we were the first team to enter the water.
The main shaft descends quite steeply to the 30m level, where the line splits. Visibility in the main shaft was really poor, as there had been some diving on previous days and the silt didn't seem to settle quickly. We had to feel our way along the guideline.
At the start of the dive I had noticed a small leak in my drysuit zipper – not a good sign, but I had decided to continue.
Approaching the split, Robin signalled to me that he had technical problems, so we exited as a team. I was soaking wet, and with the water being only at 9°C I had to postpone further exploration. But we weren't going to give up that easily, and booked to return at the end of October.
Drysuits repaired, we chose to dive on a Friday. The vis would be at its best, and we would not have the stress of being the first team in. Wolfgang even granted us permission to sleep in the mine, which would be a great experience, giving us the luxury of time to prepare everything the day before the dive.
Wolfgang gave us an extensive briefing, and we made our dive plan accordingly. After final checks on our rebreathers, we submerged in the main shaft.
This time the vis was good, and we looked forward to a spectacular dive. We arrived at the split at a depth of 26m and, as pre-agreed, turned left.
The mine looked very industrial here, with many suspended pipes and cables from the pumps that would once have prevented it from flooding. We swam past a niche containing a small chapel, created as a promise of protection for the miners.
Soon, big abandoned machines were looming spectacularly from the darkness.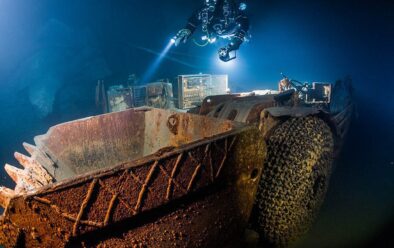 An excavator and a big reach-truck were both in an excellent state of preservation. We took our time looking at them and taking pictures from different angles, because the slate was absorbing a lot of the light, and making it difficult to take good shots.
We came to a side-shaft, the entrance beautifully made in slate. A big saw-blade lay on the ground, and we would see many more. On later dives we would also find that it was possible to bypass the sideshaft, and found an area containing a lot of beer bottles, presumably the only form of recreation down there.
We entered the shaft, which was supported by metal beams and plates. Rust snowed down as we proceeded, and when we emerged from the tunnel it was into a large room. Only now were we appreciating just how big this mine was.
• A filling station in the mine provides air, nitrox, oxygen and trimix. Full cave-diving certification is needed, as well as insurance and proof of a valid medical certificate.
A day ticket to dive costs 59 euros, bergwerktauchen-felicitas.de
Robin had reached the turnround point based on his air consumption, so we headed back. We spent a little more time around the machinery before heading up the main shaft for deco.
Meanwhile Wolfgang's friend Gunther Dudda, a very experienced cave- and mine-diver, had arrived. He was still busy exploring and documenting the mine and, over lunch, told us about its history. We learnt that our dive had been in the "new" part of the mine, which had been in service until 1994.
The machines had been built down in the mine, and the staff hadn't bothered to dismantle them when the work stopped. In this part of the mine the slate had been excavated with a huge machine-saw, which explained the straight walls.
The "old" part to the right was where the workings had started around 1886. There the slate had been hacked out with the help of explosives, and Gunther told us that the mine looked totally different. He and other explorers had already done a lot of work on mapping the mine, and he had even made a 3D model of what had been explored so far.
He showed us the map proudly, as he should be! The mine is 720m long east-west and 200m north-south, with the first level some 30m deep, the second 52m.
It was built by hand on both levels, using pneumatic drills and dynamite and employing mainly slate for the ceilings. The deeper level was dug out in 1949.
From 1950 the slate started to be sold to schools in 32 countries for children learning to write. By 1958 output was at its peak, with 65 people employed and big demand in the construction sector for slate kitchen and bathroom walls. A mill ground leftovers for use as a non-slip additive in roofing.
Working in the mine remained a dangerous task, however. "Holy Barbara" is the patron saint of miners the world over, and every morning fresh flowers had been brought to the little chapel we had seen, and a candle lit there to protect them. That wasn't enough to save a miner who died in 1979, after a large block had collapsed onto him.
In the afternoon we decided to turn right for our second dive. Visibility in the main shaft was still good, and at the split Robin placed a line-marker and we swam into the right-hand shaft.
The formations looked rougher here, as Gunther had said, and the walls had been formed with slates.
Robin swam at a higher level, where a pile of pipework had once provided ventilation and now provided a nice subject for pictures. Drainage pipes were still suspended as if ready for use.
We made a jump to a tiny side-passage that turned out to be a dead end, and returned to the main corridor.
Robin pointed out a huge metal door. When we came closer we were able to read the sign – we had found the explosives room. I must have taken 50 pictures of that door, as I wanted a really good shot of it. We turned back, planning to take better shots of the reach-truck.
Beside it we found a passage with a handrail. The ironwork had cluttered and formed into what looked like stalagmites. Time flew, and we had to end our dive.
Rhisnes Black Marble Mine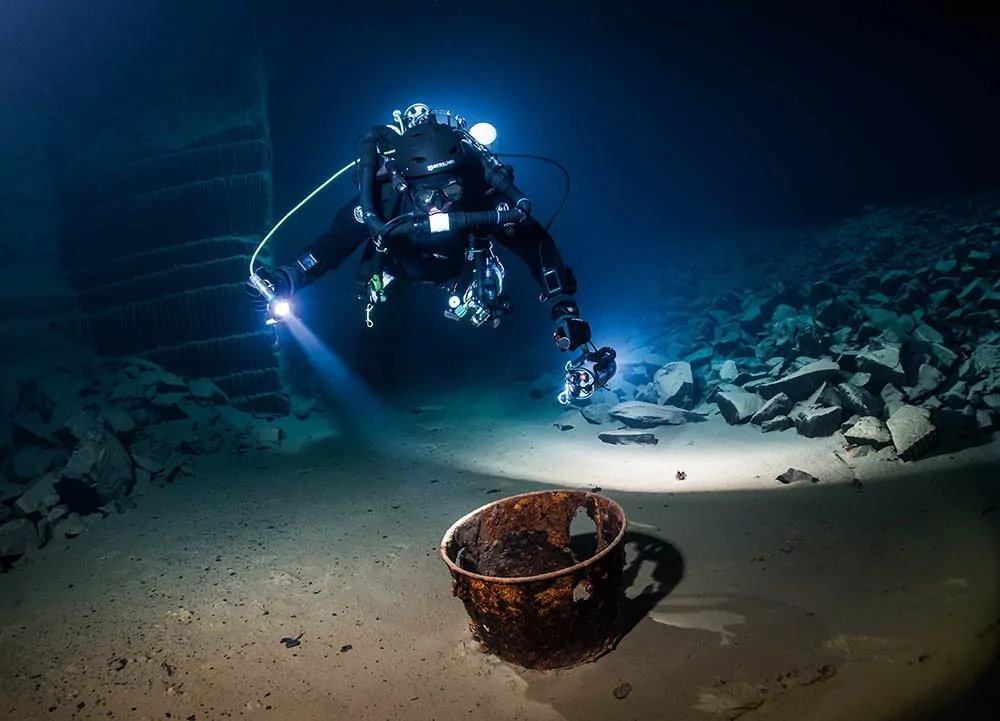 An old bucket left Rhisnes Black Marble Mine.
RHISNES QUARRY IS QUITE SHALLOW, ranging from 6-10m depending on fluctuating water levels, and has three entrances to its mine-workings.
Rhisnes is about 40 miles south-east of Brussels. The location has long been known among Belgium's cave-diving community, but for a long time the diving there tended to be conducted in secret.
Then we heard a rumour that the mine was to be closed. Luckily for us, however, it turned out to have been bought by an IANTD instructor, Jacques Carême, with the intention of turning it into an official diving and education centre.
According to the owner, Rhisnes was already being mined 200 years ago for limestone, until they found a vein of black marble and switched to digging that out.
In 1976, however, a landslide occurred on the nearby N904 road, and the excavation of marble slowed down and eventually stopped.
It was a sunny day in October. I had made an appointment with my buddy Steven Haenebalcke to dive the mine.
The weather was fantastic for the time of year, and when we arrived other cars were waiting at the gate. It was a Dutch diving team, and we made their acquaintance.
Then Jacques arrived, and we drove the car down to the quarry, nice and easy.
Jacques was busy putting cylinders out on the terrace. A compressor had just arrived, so that in future air-fills could be provided on the spot. There was even a fireplace, set ready to warm us up after our cold winter dives!
We studied Jacques' plan of the mine, and formed our dive-plan. Then we suited up, and were the first team to enter the water. Visibility was low. We surface-swam towards a buoy from which a guideline would lead to the mine entrance.
We swam through the big entrance, but were unable to release the line because the visibility was so bad. Then, some 20m further on, it cleared, giving us at least 10m of vis. Great!
We began our exploration, finning past the carved marble walls. Steven pointed out a shovel, a nice photo opportunity.
The tunnel divided at a point at which electricity cable-holders served to hold the guideline. Steven placed an arrow to mark the way out, and we ventured deeper into the system.
We reached a depth of 35m, although when water levels are high it can be as deep as 40m. As we closed the loop we saw and photographed an old rusty bucket.
Here and there I could see high points in the wall where niches big enough to swim into had been carved out.
• Rhisnes Dive Centre is near Namen. A full cave-diving certificate is required. The first dive costs 4 euros, the second only 2 euros.
Even when not marked as open, it may still be possible for groups to reserve the quarry by contacting Jacques Carème through cp-rhisnes.be
We lit the space with a slave strobe, and some silt swirling up gave it a mysterious ambience. We reached the split again, and decided to follow the other route this time, which eventually led to another entrance. A massive chain hanging from the ceiling would once have been used to manoeuvre big blocks of marble.
I had seen a video clip of the Rhisnes mine and noticed that some mine carts were shown on it, so I had asked Jacques where we could find them.
Now we seemed to be on our way back out, and I was a tad bad-tempered because we had failed to locate the carts.
Steven signalled that he wanted to explore another niche at a higher level.
As we approached I could see a thin guideline going up, and realised that it had to be the one Jacques had told me about.
I couldn't hold back a whoop of joy in my rebreather loop, and heard my buddy laughing too. The mine-carts made a beautiful sight, and we took several shots in this area, with its low ceiling.
There was another guideline there, leading to the third exit, and I was thinking that this narrow part of the system would be ideal for training with sidemount gear.
I felt very satisfied with our dive as we headed back out, but after an hour at 9°C my hands were getting really cold. The outside temperatures were 20°, so I hadn't bothered using my drysuit gloves, which would have given me some extra comfort.
At the exit the visibility became bad again, but I could feel the welcoming warmth of the quarry, making our decompression nice and easy.
We surfaced to bright sunshine – it was 14 October and the temperature was 26°C, unbelievable!
Jacques made grilled sandwiches and we enjoyed our meal and a drink on the terrace, discussing our dive while enjoying a great view over the quarry.