Appeared in DIVER September 2019
Oceanic has its roots in 1960s California, founded by Bob Hollis and starting out as a maker of underwater camera-housings, strobes and accessories. In the '70s Oceanic bought out Farallon, a small but highly inventive diving equipment company. During the '80s, Oceanic grew to become a leading full-line scuba equipment manufacturer, pushing forward the design of computers in particular.
After a UK industry shake-up, Oceanic is now represented, along with technical equipment brand Hollis (also set up by Bob Hollis), Bare, Atomic and Zeagle, by Diving Distribution.
The Design
The Oceanic OceanPro is a jacket-style BC, so it has an air-cell that runs either side of the tank to provide underwater buoyancy and stability – like a wing, but with the air-cell also wrapping around your sides.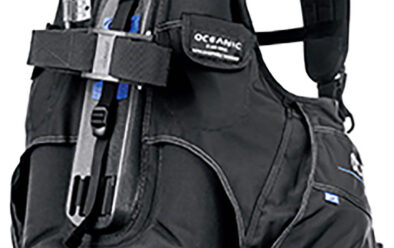 For divers correctly weighted and trimmed, these lobes provide surface flotation to keep them upright, rather than pitched onto their face, and provide space for cargo-pockets.
Equipped with shoulder-straps, it's the BC type most often chosen by recreational divers using a single cylinder. It's heavy-duty and weight-integrated.
Oceanic markets the OceanPro as a low-cost BC, but even budget life-support scuba gear tends to be comprehensively specified, and the OceanPro offers a good selection of features and benefits.
As well as targeting the needs of casual or budget-conscious leisure divers, it's also aimed at dive-centres as a rental unit. This is a war zone for kit in which only the rugged survive.
A single-bladder BC, the bag is made from 1000-denier nylon, which can be expected to be long-lasting even with hard commercial use.
The shoulder-strap buckles are the usual side-release type, with plastic pull-down D-rings for adjustment. There's a sternum strap, with another side-release buckle. A final side-release buckle, adjustable so that it can sit centrally or to either side, makes up the waist-strap, which overlies a Velcro-fastened cummerbund.
Both waist-strap and cummerbund have some adjustment for length where they thread through the back-pack. This means that you don't have lots of spare waist-strap webbing drifting in front of you, and won't struggle to fasten the cummerbund snugly if you're thin.
Sadly, I had no need to tighten these.
The backpack is rigid, with a height-adjustment loop and a single camband.
A carry-handle is built into the top of the pack, but this is narrow and I could slip only three fingers through comfortably. The backpack is lightly padded.
For carrying accessories there is one large D-ring on the right shoulder and a small one on each lobe, ideal for clipping off octopuses and gauges. All the D-rings are plastic.
Two large pockets are accessed by zippers, and one has another small D-ring inside.
Inflation is push-button from your tank or by mouth. A rapid-exhaust dump-valve is built into the inflation-hose elbow, activated as usual by pulling down on the mouthpiece. A shoulder-dump sits on the left shoulder, with a bum-dump on the lower left.
The OceanPro would normally have weight-pouches slotted inside it, just behind the cargo-pockets, though these were not supplied for the test. They're released simply by pulling outwards on a handle.
Near-identical systems are used by many manufacturers. I prefer them because they're so easy for the user to emergency-jettison, and because another diver coming to the user's assistance is unlikely to be confused by their operation. However, many other manufacturers argue that side-release clips are better because they're virtually impossible to release accidentally, such as by snagging on wreckage.
Trim-weight pockets, closed by Velcro, are mounted on the back of the BC.
In Use
I walked the jacket around a little at the dive-site, equipped with a 12-litre cylinder, a regulator set and a 1kg weight in each trim-weight pocket for an all-up weight of around 25kg. It was very comfortable worn over my coldwater wetsuit. Although not tried fully loaded with integrated weights, I would expect it to be easy on the back and shoulders for shore-diving.
I first tested the jacket to see how high above the water it would support me. If you're out of air in a swell, and don't have a snorkel, you want your mouth clear of the chop so that you can breathe.
The OceanPro maintained a height of about 13cm from the surface to my lower lip with my head held upright. This is well within the range for most BCs of this style and lift, and a creditable performance.
It also supported me vertically, ensuring good surface vision, to see an approaching boat, for instance. Fighting a BC to stop it from pitching you forwards or tipping you backwards is exhausting. So the OceanPro performed very well at the surface.
The impressive performance continued under water. Stability was good, helping me to maintain a horizontal position with very little corrective fin movement. The power inflator is progressive, so its inflation rate can be varied a little depending on how hard you press the inflator button.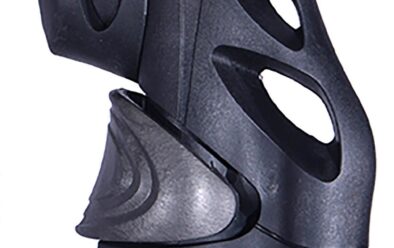 Fastest fill-time on the surface and at 10m was around 5 seconds. The jacket is also easily inflated by mouth.
I like to test dump-valves to confirm that they can vent air faster than the direct feed can supply it. Should a direct feed ever jam open, this can be vital to ensure that you can control your ascent and not go flying to the surface.
Either upper dump achieves this. I didn't test the bum-dump, because you're unlikely to be in a head-down position if a runaway ascent is developing.
A BC's natural tendency as you become positively buoyant is to bring you head up.
As a final test of the upper dumps, I fully inflated the BC at 10m while holding onto some wreckage, then let go. Stopping distance for either upper dump was around 1.5m. This indicates that a full-on runaway ascent can still be brought under control very quickly.
The direct-feed, dumps and harness buckles are all easily operated while wearing thick gloves. The pockets are tight, and I'm not sure if using the integrated weights would make this worse. You can certainly carry slates and a folding snorkel. Larger items such as a DSMB will fit, but might be fiddly to extract.
Conclusion
This is a good, workmanlike BC. If you're properly weighted, it is as suitable for coldwater diving in thick dive-suits as it is for diving in the tropics in a skin. It will more than satisfy the wants of many recreational divers, delivering good surface and underwater buoyancy characteristics and comfort.
For dive schools, it would seem to strike an attractive balance between features, durability and price. Recommended.
Specs
TESTER> Steve Warren
PRICE> £365
SIZES> Male 10, Female 10 (both 3XS-3XL)
BUOYANCY> 17kg (L)
WEIGHT> 3.5kg (L)
DUMP VALVES> 3
COLOUR> Black
CONTACT> oceanicworldwide.com
DIVER GUIDE>  8/10