Marine and conservation groups have succeeded in raising £66,000 to protect the seagrass meadows of Studland Bay in Dorset, and their inhabitants such as seahorses and rays.
The funds raised by the Studland Bay Marine Partnership (SBMP) will go to install 22 of the eco-moorings that offer a sustainable alternative for boat-users to the anchors that can uproot seagrass. Ten such moorings were installed in the bay in 2021, and the SBMP eventually hopes to establish 87.
Also read: Top Green Fins dive-centre is on Malapascua
Studland Bay has been protected as a Marine Conservation Zone since 2019 and the following year seahorse sightings by scuba divers soared, even allowing for boat-traffic falling as a result of the Covid pandemic. Seahorses were seen in double figures on multiple dives, with as many as 21 spotted on single dives.
Seagrass meadows play a vital role in carbon capture and provide shelter for fish such as pipefish, wrasse, bass and bream, as well as crustaceans and molluscs. Studland Bay hosts spiny seahorses, with short-snouted seahorses also occasionally seen. Both species breed at the site and are legally protected, as are other Studland residents such as undulate rays, native oysters and truncated anemones.
A Voluntary No Anchoring Zone was introduced by the Marine Management Organisation in December 2021, which was when the SBMP was formed. It comprises key stakeholders from the boating community, conservation charities, scientific researchers, grassroots organisations, the local parish council and statutory bodies.
Eco-moorings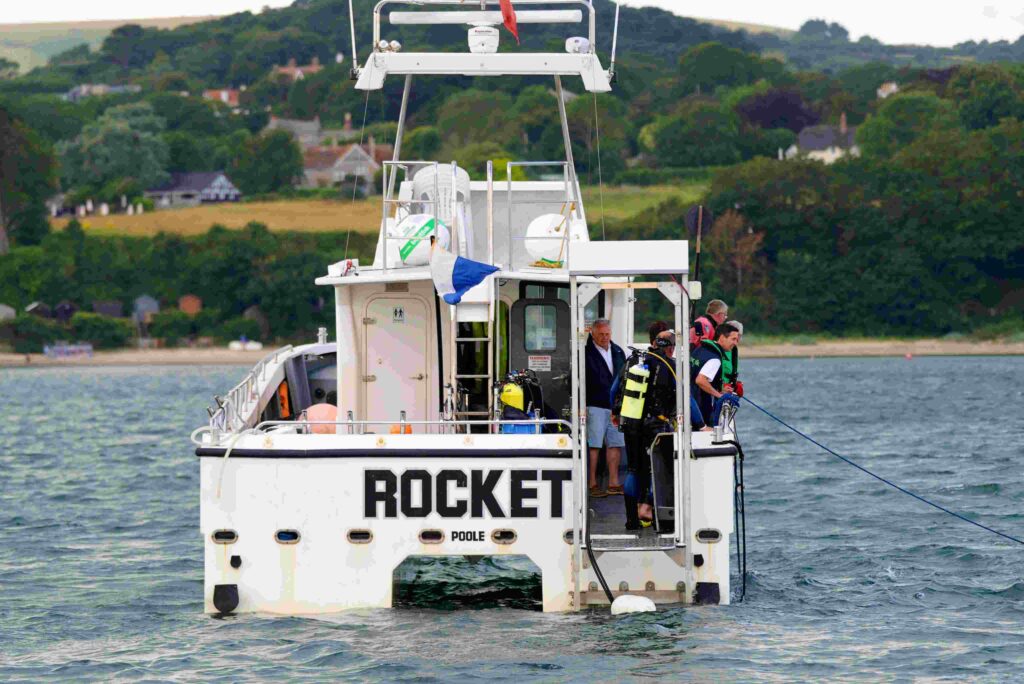 The £66,000 sum was raised through crowdfunding by the Seahorse Trust combined with donations from the National Trust, Crown Estate and local hotel and restaurant the Pig on the Beach. The SBMP is continuing with its fund-raising efforts in its bid to ensure long-term sustainability of the project.
Eco-moorings consist of a permanently installed helical screw anchor, connected to a mooring buoy by an elastic rode. This stretches at higher tides and contracts when tides are lower to prevent the equipment damaging the seagrass.
The fund-raising followed an extensive engagement period with local residents and boat-users. Of those surveyed, 58% expressed interest in seagrass conservation.
"We are thrilled to have reached this milestone," said Neil Garrick-Maidment, executive director of the Seahorse Trust. "With dwindling seahorse numbers across the UK, simple steps such as the installation of eco-moorings bring space and time for recovery and will help breathe new life at Studland.
"We hope this positive news story can show the public that every penny counts when it comes to grassroots fundraising and conservation efforts, and these vital funds will help save this unique species' home from destruction."
A Seahorse Trust factsheet is available, with details of Studland Bay and the seahorse population.
Also on Divernet: Eco-Moorings Can Protect Studland's Seahorses, Be The Champ! Seagrass Beds, Seagrass Project Gets Going In Cornwall, We Should Fight To Protect UK Seagrass