Rare and collectable whisky recovered by a recreational diver from the 1895 Clyde shipwreck Wallachia has just gone under the metaphorical hammer – while another diver's beer-bottle discovery is breeding a new generation of ales based on Victorian yeast. Brewers are looking to enlist further help from wreck divers too, as STEVE WEINMAN reports 
A rare decanter and bottles of whisky and beer, salvaged years ago by a scuba diver from the 1895 Clyde shipwreck Wallachia, was the centrepiece of an auction in Glasgow yesterday (14 April) – and at £2,500 somebody seems to have got a bargain, because the estimate for the sale had been £3-5,000. 
Auctioneer McTear's had described the "rare and collectable" spirits as being among the finest examples of Wallachia's alcoholic cargo yet sold.
On 29 September, 1895, the cargo steamer left Glasgow bound for Trinidad and Demerara, carrying a general cargo that included whisky, gin and beer. It didn't get far. Three hours later it had sunk in the Clyde estuary after colliding with the Norwegian steamer Flos in fog. All onboard were rescued.
The wreck was rediscovered upright and intact at 34m by Girvan Sub-Aqua Club in 1977. In the silty rearmost hold, accessed through a relatively small hatchway, were thousands of beer bottles complete with corks, some still inscribed "McEwans of Glasgow".
The whisky was initially thought lost, but over the following decades recreational divers succeeded in extracting a number of intact bottles.

It was one of those divers who had scoured the wreck in the 1990s who put his personal find up for sale in McTear's "Timeless Treasures" auction. "Although individual bottles of 'Wallachia whisky' have been sold in the past, this is the largest and best-preserved selection to go under the hammer," said McTear's whisky specialist Ewan Thomson before the sale. McTear's is the world's longest-established auctioneer of whisky.  
"The decanter is a particularly notable find, being one of only two recovered from the ship and, as far as we know, it is the only one to ever come to auction," said Thomson. It contained Wilkinson's Famous Liqueur Whisky. 
The lot also included seven bottles and half-bottles of whisky from historic brands Robert Brown's Four Crowns Blend and Charles Wilkinson – along with two bottles of McEwan's Export beer.
Thomson made no claims for the quality of the contents, saying that most bidders would have been interested in the bottles as collectors' items rather than for drinking.
"Reports from those who have been brave enough to sample these whiskies in the past range from 'elegant and moving' to an 'utter abomination'," he said.
Wallachia Stout
The drinkability of the beer in the lot was also unknown, but a brewing specialist has already succeeded in recreating "Wallachia Stout", a beer based on yeast from a bottle of McEwans found on the wreck by scuba diver Andy Pilley five years ago.
And now Brewlab, which is hoping that the beer will soon become available to drinkers on a commercial scale, is asking any divers who come across intact bottles on any long-submerged wreck to get in touch. 
In April 2021, Diver magazine ran an article by Glasgow-based Pilley. After he had picked up his first Wallachia beer-bottle as a souvenir in 2018, a friend had suggested that he contact Dr Keith Thomas, director of Sunderland-based Brewlab, which provides specialist brewing training and laboratory services.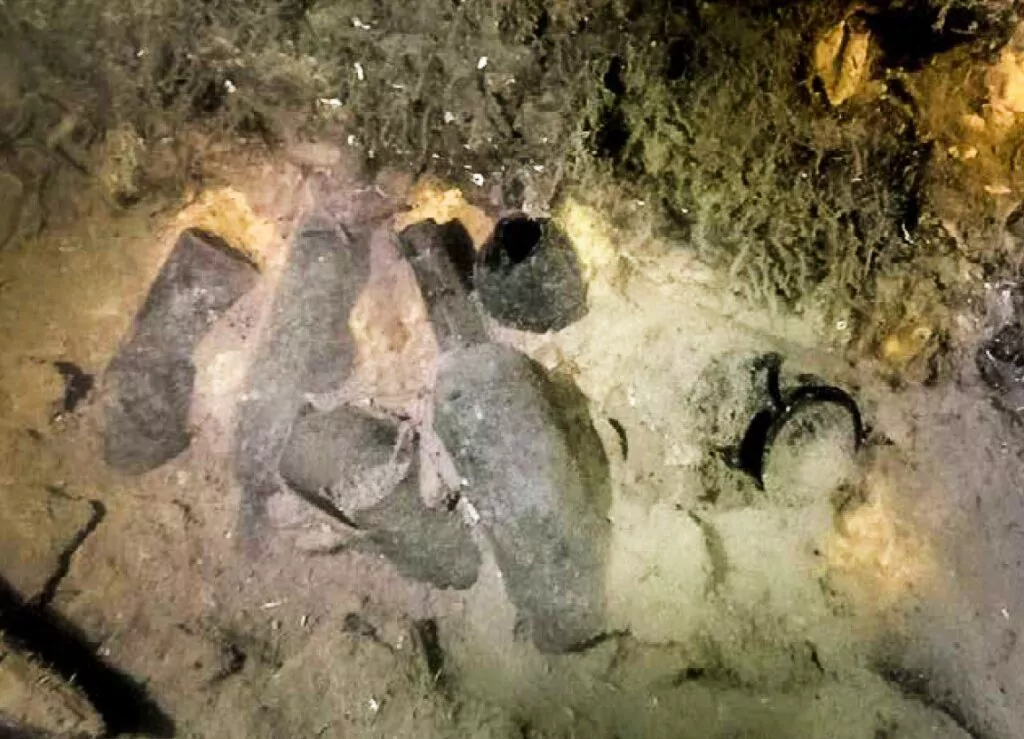 After analysing the beer, Brewlab found that it would be possible to isolate and recultivate live yeast structures with a view to recreating it. The Debaryomyces and Brettanomyces yeast strains, rarely found in modern brewing, had survived in the relatively stable, dark and cool conditions on the Wallachia.
In response to a request from Brewlab, in 2019 Pilley's dive-group recovered four more well-preserved bottles of McEwans stout from the wreck, allowing the company to expand its research. The following year Brewlab managed to recreate the beer, publishing details of the enterprise.
'Very drinkable'
"I'm no expert on flavour profiles but when we tried the samples I got hints of coffee and chocolate, and the alcohol content was around 7.5%," said Pilley. "It's very drinkable." That alcohol volume or ABV, standard for export-grade beers in the late 1800s, would have reduced in the course of the long voyage that Wallachia failed to achieve.
Brewlab has since been investigating other types of brew such as IPAs (also found on the Wallachia) and porters to use with the yeast, and is hopeful that a brewery will agree to reproduce the beer for popular consumption.
"We're particularly interested in characterising the yeast physiology and genetics to determine how it may differ from contemporary yeasts," Thomas recently told Divernet.
"This is particularly relevant to studies on what may be termed the golden age of brewing (1880-1914), during which technical improvements allowed for better quality control, and when yeasts were a mix of strains and species rather than single strains as at present."
High levels of heavy metals, particularly arsenic and lead, have recently been found to be present in the original Wallachia beer, and this is being investigated further.
"We are conducting trial brewing with the yeast isolated, which is particularly interesting as these are not standard brewing yeasts," said Thomas. "To date they have performed well."
Solid mouthfeel
Single-bottle home-brew versions of Wallachia Stout (6.2% ABV) can be purchased from Brewlab for £4.80. "Strongly flavoured dark malts provide a spicy roast flavour initially blending with caramel and honey in the finish," runs the description. "A solid mouthfeel and lingering fruit persist throughout."
"Feedback would be appreciated if any Divernet readers care to try!" said Thomas. But he is especially keen to get wreck divers to help recover more historic beer-bottles – and to get in touch without delay if they have already found any.
"We are urging finders to retain any bottles with contents, as these contain valuable historic materials from which we can recreate recipes through chemical analysis," he said.
"More interestingly, we can retrieve living micro-organisms and assess residual DNA, which will show what organisms were present at the time of production.
"As microbes will have a finite life expectancy even in the best conditions – shipwrecks especially – there is some urgency to obtain and analyse bottles as well as keeping in cool conditions once discovered."
So if you come across full bottles of beer on any historic wreck, let Brewlab know by contacting Keith Thomas at [email protected]
Also on Divernet: Diver's Undrinkable Wallachia Whisky Up For Sale, £9,200 For Diver's Whisky Bottle, 10,000 Bottles Sitting On A Wreck – Drinkable Or Not?, 'World's Oldest Beer' Recovered From Shipwreck