PHILIPPINES DIVER
All Things Great & Small
Moalboal in the south-west of Cebu in the Philippines offers everything from easy snorkelling and spectacular macro diving to extreme tech on rebreathers and scooters. Expect close encounters with the smallest and biggest fish in the ocean – and almost everything in-between. Text and photos by Jesper Kjøller
Diver among the whale sharks at Oslob.
The reduced visibility is not caused by particles in the water column. In fact, the water is unusually clear today. The low vis is caused by fish, millions of them.
The enormous sardine baitball keeps changing shape. It can grow dark when the school obliterates the sun.
I'm looking around for my wife.
Where is Dorte? It's easy to get lost in the tornado of swirling fish.
Suddenly a large hole in the solid wall of sardines opens up and she rushes towards me, scooter on full throttle.
I know her body language, and I can tell that she's having a blast.
The school moves as if it were one large organism and the majestic scenery keeps changing. I shoot with the camera on automatic to accommodate for the constantly shifting light conditions.
With my rebreather I can dive under the sardines without disturbing them with exhaust bubbles, and Dorte keeps finding new photogenic ways to position herself in the school. I'm having a blast too!
Moalboal is famous for the sardines. They used to stay around Pescador Island, but a few years back suddenly decided to relocate, and now hang out close to the shore at Panagsama Beach, just a few minutes' boat-ride from our resort's jetty.
Nobody can explain why they moved or why they stay, but the local authorities recognise their value and protect them for the benefit of the tourist industry.
Fishing is allowed only with hook and line, and many local fishermen now make money offering boat-rides to snorkellers instead of catching the sardines.
Hook a sardine, and they can sell it only once. The fishermen can sell a live sardine to the tourists every day.
The baitballs illustrate the biological concept of safety in numbers. Predators are believed to get confused when approaching big schools of fish, and have difficulty in singling out individuals.
"Sardine" covers a handful of species in the herring family and there are a couple of separate schools at Panagsama, with distinctive species and slightly different sizes, shapes and colours.
Many divers travel to Moalboal just for the baitballs, but the destination has far more than a can of sardines to offer the guests.
Appeared in DIVER September 2019
After a 20-minute cruise on Kasai Village Dive Resort's large, comfortable bangka (the traditional boat with bamboo outriggers for stability), we arrive at Pescador, a small limestone outcrop a few nautical miles from shore.
The area is a protected marine park and you can circumnavigate the entire island in one dive – if you hurry up.
But, like the dive-sites on the mainland, Pescador has plenty of caves, overhangs, cracks and canyons, so you want to take your time to explore.
It's a dramatic site with thriving coral gardens, lots of reef fish and plenty of interesting macro life. It deserves at least two dive-days to cover thoroughly.
Felix, our excellent local guide, mentions a Cathedral Cave in the briefing. I like the sound of that.
We find the chimney-like structure, I swim in to evaluate the photographic possibilities and am surprised by what I see when I turn to look back through the opening. This is not a Cathedral Cave – it's a Skull Cave!
If anybody ever contemplated producing an underwater version of the old Phantom comic strip, this would be an excellent location for his lair.
The two eyes are perfectly spaced and, below them, a large opening resembles the cavity where nose and mouth would have been. It is a magnificent sight and, after a little direction, Dorte is perfectly positioned for the Skull Cave money shot.
Between dives we are served three delicious meals in the airy restaurant on the second floor overlooking the coral reef outside. Kasai Village Dive Resort recently launched a low-carb, high-fat (LCHF) menu option for followers of that diet and, impressed by the quality of the food, we opt for that throughout our stay.
We are not really offered any choices, but surrender to whatever the chef prepares for us. Not only is it healthy but always delicious and satiating.
Having a nutritious breakfast and double espressos while enjoying the view of neighbouring island Negros on the other side of the Tanon Strait is a great way to begin the day.
At the end of the jetty our dive-boat is waiting, the crew loading tanks for the morning dives. Kasai Village Dive Resort supports every imaginable kind of diving, so we have booked twin-sets in advance and packed our double-wings, backplates, and regulators for that kind of set-up.
We like being able to do long nitrox dives without worrying too much about gas supply.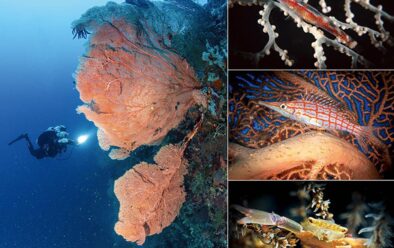 The term "house reef" is used loosely at many dive-centres. It often describes the nearest site for conducting training or try-dives. At Kasai Wall, "house reef" is a bit misleading – this site has everything!
The reef at the end of the picturesque resort jetty soon becomes our favourite choice for a late afternoon or early night-dive. You could spend the entire dive exploring the macro life in the shallow area around the end of the jetty, but there is also easy access to a nice drop-off, so we usually begin our unguided house-reef dives by dropping to 25-30m.
The wall is covered in seafans, sponges and whip corals, and can boast a selection of fan corals containing several Denise's pygmy seahorses.
These diminutive cuties are incredibly challenging to spot, and they tend to jump from branch to branch when disturbed, making them even harder to get in the viewfinder.
There is even a small colony of mandarinfish at the edge of the drop-off, and we try to time our dives to coincide with sunset, when they come out to perform their mating ritual.
By either ending our afternoon dive or beginning our night dive around sunset, we manage to observe several mating events.
A large turtle is usually resting on a ledge below the cluster of staghorn corals, where the mandarins hide during the day.
The alarm wakes us at 4.30am. I prepare cups of instant coffee. The minibus that will take us to Oslob on the south-east coast of Cebu leaves soon and the crew are loading equipment, tanks, and provisions for the day trip.
The kitchen staff have prepared LCHF breakfast boxes for us and we eat during the two-hour drive. We reach the site to discover hundreds of others with the same intention of diving with the whale sharks that congregate close to the beach.
Luckily, most of them are snorkellers or spectators who will stay dry in the small boats. Once under water it doesn't feel crowded at all, and we spend two glorious long dives with the gentle giants.
The local fishermen were getting tired of the whale sharks destroying their krill nets, and started to feed the behemoths to keep them under control – creating the basis for a far more lucrative industry: whale-shark watching.
Every day between 9 and 11 a group of whale sharks show up expecting krill. Feeding wild animals is controversial, but the enterprise is well-organised and the animals are not harmed.
Sometimes when there are natural food alternatives in the water the whale sharks shun the fishermen's krill, so they do have a choice. Or am I just trying to justify supporting a dubious practice?
Every day hundreds of people enjoy close interactions with the whale sharks, learn about them and leave with an increased appreciation, which can only be good in the long run.
Michael Pettersson, the Swedish manager of Kasai Village Dive Resort, has mixed feelings about the Oslob experience. "Six or seven years ago, before the feedings at Oslob became systematic, we would regularly see whale sharks passing our house reef or Pescador Island. It still happens, but much less frequently.
"Oslob is a bit of a zoo, but many people ask for it and we're happy to take them there, as it is a nice experience."
I do a couple of deep rebreather dives with Michael. The centre supports several models, including the JJ-CCR, Poseidon Se7en and rEvo, and he is a very experienced instructor-trainer.
The logistics are also perfect for technical dive training, with easy access to 50m-plus in front of the jetty.
One day he asks me if I would like to do a cave-dive. I'm in! We have to get up early because the dive must be aligned with the tide-tables, and if the inward flow is too strong, it's impossible to swim out again.
The cave entrance is at the base of Kasai Wall at 40m – as I said, that house reef has everything!
Michael is diving his side-mounted Liberty rebreather, but after a few hundred metres of penetration the cave starts to become too narrow for my back-mounted rig. We exit before the tide starts to pull water into the cave and spend 30 minutes of decompression enjoying the company of a school of juvenile batfish.
Michael tells me later that the area has many unexplored sea-caves, but if there is one thing missing on Kasai's menu it's wrecks. Tanon Strait is quite a busy sailing passage, but a sinking vessel would disappear to great depths outside the range of even the most advanced divers.
There is one wreck, however. On the sandy bottom at 22m on Copton Point is the fuselage from a single-engined Lancair plane, sunk in the mid-1990s by local dive-centres as an alternative to wall and macro dives.
The area also supports an eel garden and on the drop-off beside the plane the fan corals are among the largest I have ever seen.
THE RESORT
Michael Pettersson once worked as a manager for Ericsson and, being a diving instructor, he was put in charge of arranging dive travels for the mobile phone giant's staff.
While in Moalboal with a group he met Lydia, a secretary at the dive shop who would become his wife.
They moved back to Sweden for a few years, but when Ericsson offered Michael a redundancy package as part of staff cut-backs he was able to get off the hamster-wheel and develop a property in Moalboal. Kasai Village Dive Resort was born 18 years ago.
The resort is small and cosy and the diving facilities excellent, with a large area for changing, storing and rinsing equipment, and spacious rooms for cameras and for setting up rebreathers and other technical dive gear.
The diving staff are helpful and well-trained, many having worked for the resort for many years.
Michael and his staff are always on the lookout to develop new dive experiences for guests and during our stay I also had the pleasure of trying fluorescent night-dives and blackwater diving, but that's a story for another time.
A dive-destination is made up of various components. Quality of diving is important, but secondary parameters such as infrastructure, guides, accommodation, cruising distances to and from sites, variation in dive possibilities and good service can make or break a holiday.
Kasai Village Dive Resort ticks all the boxes and several more.
The sardines alone are worth the trip, but with everything else thrown into the mix, Moalboal is hard to beat.
FACTFILE
GETTING THERE> Fly from the UK to Cebu City, typically via Dubai or Singapore. The resort organises the 3-4 hour minibus transfer.
DIVING & ACCOMMODATION> Kasai Village Dive Resort, kasaivillage.com
WHEN TO GO> Warmest months are March-October. The winter monsoon brings cooler air November-February. The resort operates year-round and says it seldom cancels dives due to weather. Water temperatures are 27-30°C.
MONEY> Philippine peso (PHP).
HEALTH> Nearest recompression chamber is in Cebu City.
PRICES> Seven nights' B&B (two sharing) with 15 dives costs from US $999pp. A two-tank boat-dive costs $102.
VISITOR Information> itsmorefuninthephilippines.co.uk