PHILIPPINES DIVER
All Things Great & Small
Moalboal in the south-west of Cebu in the Philippines offers everything from easy snorkelling and spectacular macro diving to extreme tech on rebreathers and scooters. Expect close encounters with the smallest and biggest fish in the ocean – and almost everything in-between. Text and photos by Jesper Kjøller
Diver among the whale sharks at Oslob.
The reduced visibility is not caused by particles in the water column. In fact, the water is unusually clear today. The low vis is caused by fish, millions of them.
The enormous sardine baitball keeps changing shape. It can grow dark when the school obliterates the sun.
I'm looking around for my wife.
Where is Dorte? It's easy to get lost in the tornado of swirling fish.
Suddenly a large hole in the solid wall of sardines opens up and she rushes towards me, scooter on full throttle.
I know her body language, and I can tell that she's having a blast.
The school moves as if it were one large organism and the majestic scenery keeps changing. I shoot with the camera on automatic to accommodate for the constantly shifting light conditions.
With my rebreather I can dive under the sardines without disturbing them with exhaust bubbles, and Dorte keeps finding new photogenic ways to position herself in the school. I'm having a blast too!
Moalboal is famous for the sardines. They used to stay around Pescador Island, but a few years back suddenly decided to relocate, and now hang out close to the shore at Panagsama Beach, just a few minutes' boat-ride from our resort's jetty.
Nobody can explain why they moved or why they stay, but the local authorities recognise their value and protect them for the benefit of the tourist industry.
Fishing is allowed only with hook and line, and many local fishermen now make money offering boat-rides to snorkellers instead of catching the sardines.
Hook a sardine, and they can sell it only once. The fishermen can sell a live sardine to the tourists every day.
The baitballs illustrate the biological concept of safety in numbers. Predators are believed to get confused when approaching big schools of fish, and have difficulty in singling out individuals.
"Sardine" covers a handful of species in the herring family and there are a couple of separate schools at Panagsama, with distinctive species and slightly different sizes, shapes and colours.
Many divers travel to Moalboal just for the baitballs, but the destination has far more than a can of sardines to offer the guests.
Appeared in DIVER September 2019
After a 20-minute cruise on Kasai Village Dive Resort's large, comfortable bangka (the traditional boat with bamboo outriggers for stability), we arrive at Pescador, a small limestone outcrop a few nautical miles from shore.
The area is a protected marine park and you can circumnavigate the entire island in one dive – if you hurry up.
But, like the dive-sites on the mainland, Pescador has plenty of caves, overhangs, cracks and canyons, so you want to take your time to explore.
It's a dramatic site with thriving coral gardens, lots of reef fish and plenty of interesting macro life. It deserves at least two dive-days to cover thoroughly.
Felix, our excellent local guide, mentions a Cathedral Cave in the briefing. I like the sound of that.
We find the chimney-like structure, I swim in to evaluate the photographic possibilities and am surprised by what I see when I turn to look back through the opening. This is not a Cathedral Cave – it's a Skull Cave!
If anybody ever contemplated producing an underwater version of the old Phantom comic strip, this would be an excellent location for his lair.
The two eyes are perfectly spaced and, below them, a large opening resembles the cavity where nose and mouth would have been. It is a magnificent sight and, after a little direction, Dorte is perfectly positioned for the Skull Cave money shot.
Between dives we are served three delicious meals in the airy restaurant on the second floor overlooking the coral reef outside. Kasai Village Dive Resort recently launched a low-carb, high-fat (LCHF) menu option for followers of that diet and, impressed by the quality of the food, we opt for that throughout our stay.
We are not really offered any choices, but surrender to whatever the chef prepares for us. Not only is it healthy but always delicious and satiating.
Having a nutritious breakfast and double espressos while enjoying the view of neighbouring island Negros on the other side of the Tanon Strait is a great way to begin the day.
At the end of the jetty our dive-boat is waiting, the crew loading tanks for the morning dives. Kasai Village Dive Resort supports every imaginable kind of diving, so we have booked twin-sets in advance and packed our double-wings, backplates, and regulators for that kind of set-up.
We like being able to do long nitrox dives without worrying too much about gas supply.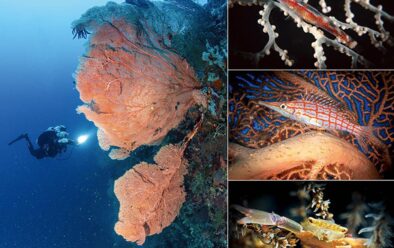 The term "house reef" is used loosely at many dive-centres. It often describes the nearest site for conducting training or try-dives. At Kasai Wall, "house reef" is a bit misleading – this site has everything!
The reef at the end of the picturesque resort jetty soon becomes our favourite choice for a late afternoon or early night-dive. You could spend the entire dive exploring the macro life in the shallow area around the end of the jetty, but there is also easy access to a nice drop-off, so we usually begin our unguided house-reef dives by dropping to 25-30m.
The wall is covered in seafans, sponges and whip corals, and can boast a selection of fan corals containing several Denise's pygmy seahorses.
These diminutive cuties are incredibly challenging to spot, and they tend to jump from branch to branch when disturbed, making them even harder to get in the viewfinder.
There is even a small colony of mandarinfish at the edge of the drop-off, and we try to time our dives to coincide with sunset, when they come out to perform their mating ritual.
By either ending our afternoon dive or beginning our night dive around sunset, we manage to observe several mating events.
A large turtle is usually resting on a ledge below the cluster of staghorn corals, where the mandarins hide during the day.